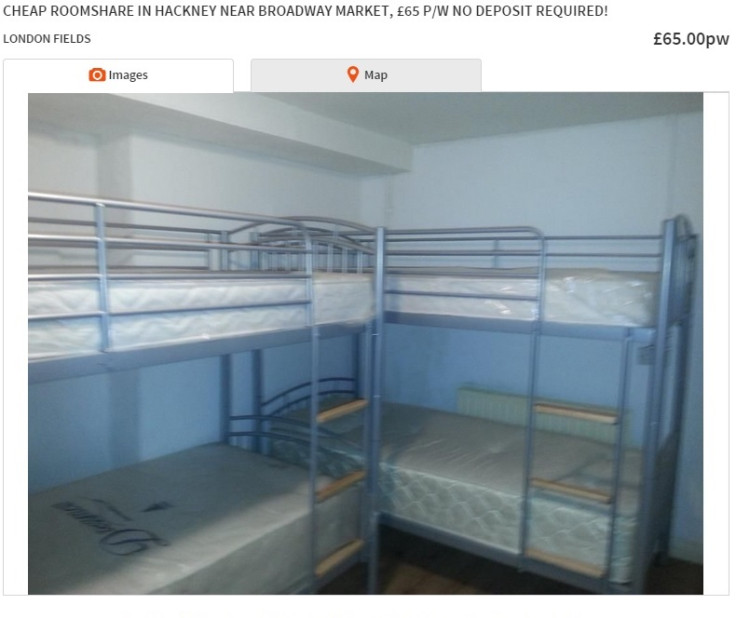 Rebecca pays just £390 a month to live in Turnpike Lane, Haringey, which sits in Zone 3 of London's Tube network and along the Piccadilly Line, offering quick access to central stops such as King's Cross and Holborn.
This is astonishing value in a city where rents have risen 25.6% between 2011 and 2015 to hit a median of £1,350, according to Valuation Office Agency data. But there is a catch: she has to share a bedroom.
"I share a bedroom because it simply wasn't financially feasible not to share," Rebecca, a 27-year-old Canadian expat who does not want to reveal her surname, tells IBTimes UK. "I knew I would be getting a 'survival job' here to start and that it might even take me a while to find that (which it has and is... several trial shifts, but nothing solid yet)."
Flipboard magazine: London's rents crisis series in full
Sharing a bedroom is on the rise in the city. Demand for London property is soaring as the population booms and a severe shortage of homes bites hard. London is building homes at around half the level it needs to.
The shortage is worsening every month and house prices have long soared past an affordable level for most. The average London house price was £493,000 in April 2015 after rising 4.3% over the year.
Overcrowding
People still need to live in London. Many do not want to lose all of their money to landlords, instead choosing to squeeze into smaller but cheaper accommodation so they can save money and perhaps buy a place of their own. Some simply cannot afford standard rents.
Where once landlords carved up houses into rooms and flats, now they are carving up the bedrooms themselves. Tight planning rules and the dogmatic protection of Green Belt land around London hamstrings developers.
A lack of funds and political will hinders the building of more social housing. So the division of bedrooms into cramped multi-occupant spaces is a logical step for the supply side of a market which is overspilling with demand.
More than one in ten of London's homes are overcrowded (11.3%) and almost four in ten were as full as is recommended (39.3%). A quarter of homes in the London borough of Newham were overcrowded (25.2%), the highest rate of all the boroughs.
| | | | |
| --- | --- | --- | --- |
| Property type | London median monthly rent 2011 (£) | London median monthly rent 2015 (£) | % change |
| Room | 425 | 525 | 23.53% |
| Studio | 737 | 850 | 15.33% |
| 1 bedrooms | 950 | 1155 | 21.58% |
| 2 bedrooms | 1192 | 1400 | 17.45% |
| 3 bedrooms | 1350 | 1695 | 25.56% |
| 4 or more bedrooms | 2000 | 2500 | 25.00% |
| All types | 1075 | 1350 | 25.58% |
"The relatively higher house prices and rents in London could encourage more sharing among families and individuals who would otherwise have occupied separate bedrooms, leading to a higher prevalence of overcrowding," said the ONS.
Over the two years to the end of 2014 there was a 71% jump in searches for shared bedrooms in London on the listings site SpareRoom.co.uk, reported the Guardian.
"Representatives on a local and city level and some on a national level have been raising this issue for many, many years," Jenette Arnold, a Labour member of the London Assembly, told IBTimes UK in June 2015.
"We now have reached the stage where we have over one million private renters and those renters are being ripped off and it is all to do with capital. For young professionals, many of whom are medics, teachers, who are critical to the life in our city, sharing is now the norm."
'Unglamorous'
A search of sites like Gumtree offers troubling viewing. Bunk beds wedged into rooms like Tetris blocks in London Fields. A mattress on the floor, but the promise of a balcony overlooking Whitechapel.
A sofa for £16 a night by Leyton station. The landlord confirms to IBTimes UK that he would consider a long-term tenancy. One person posting a "wanted" advert asks for a bed to rent, but only between the hours of 9am and 2pm on Mondays and Fridays.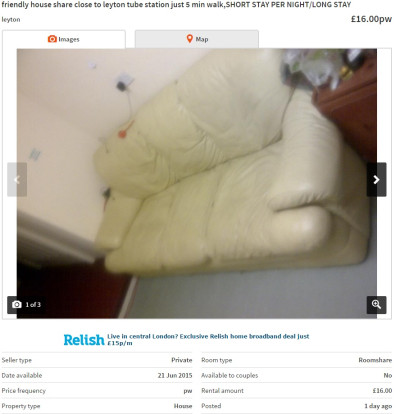 Rebecca has moved in with a close friend from back home in Halifax, Canada, who she describes as "a sweetheart".
"In some ways I'm surprised how easy it has been -- I am very introverted, but she is respectful of that and gives me quiet time and space," Rebecca says.
"Still, when you're pushing 30 it's pretty unglamorous to share a bedroom with anybody other than an SO [significant other]. Sharing with someone I didn't know, or didn't like, would have been totally unbearable.
"The main issue, since we get along well and are respectful of each other, is simply space. I have stuff. So does she. And there just isn't enough room for it all -- even though we only unpacked basically a suitcase and a carry-on each.
"Things are likely to become more complicated (not to mention crowded) when/if friends or partners from Halifax come to visit, but I suppose we'll cross that bridge when we come to it."
Charles Dickens novel
There have been horror stories. A BBC investigation exposed the "beds in sheds" scandal in west London, where poor migrants were paying landlords to live in slum conditions which breach numerous health and safety and tenancy laws. One family was renting a garage as a home.
In Newham, 26 people were found by the council's housing enforcement officers to be living in a single property suitable for a maximum of just seven tenants.
Statistics from the London Fire Brigade show 432 fire incidents resulting in 14 deaths and 83 injuries in the five years to 2014/15 -- all in unsuitable accommodation.
"It's a tragedy that in this day and age we've got people living in factories, sheds, and outbuildings in scenes reminiscent of a Charles Dickens novel," the Brigade's Third Officer Dave Brown said when the figures were revealed in March 2015.
"When people are forced to live in these sorts of buildings, they are at a far greater risk of having a fire as the buildings often don't contain vital safety features like fire doors and alarms, which can be the difference between life and death."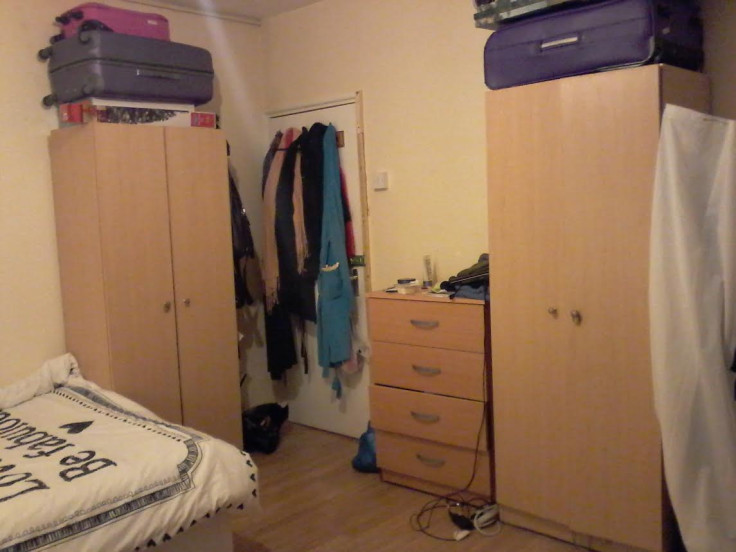 Ana López, 23, is a Spaniard living between Vauxhall and Clapham Junction and working as a waitress. But she cannot afford the £600 a month she would probably have to spend on a single room. So she shares a bedroom instead and pays just £360, allowing her to put around £100 into savings each month.
"I can't live alone because then I can't save anything. I know for sure when my friend [leaves] London I don't want to share [anymore] because I think I had very good luck with her."
They are considerate of each other's needs and make allowances, says López.
"Of course some days it's difficult, but all people have bad days, me, her, you. Some days I can't stand her, and some she cant' stand me, but we understand. After more than one year I love her like my sister."