London rents crisis: Even property guardians are being gentrified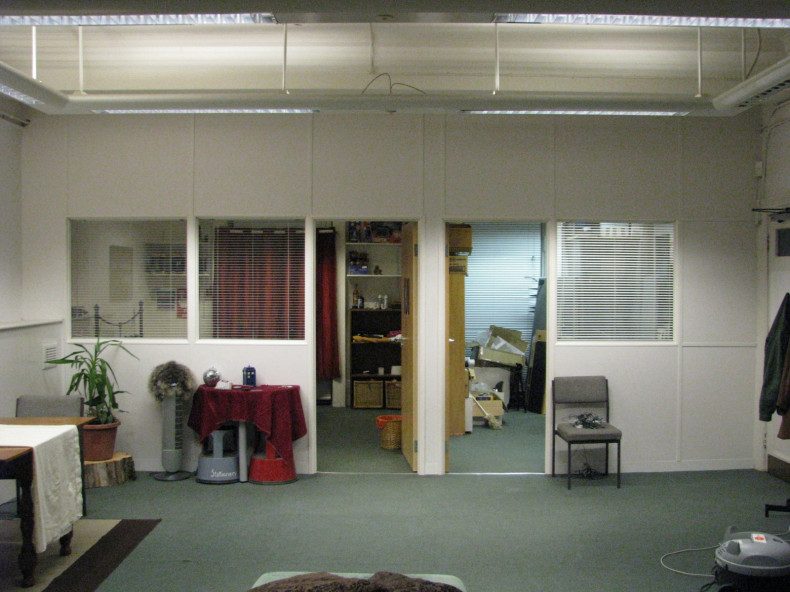 Over the past six years in London, Rex Duis has lived in an old school, a science lab, disused council offices and a former mental asylum. At the moment, he lives in an old police station in Bermondsey, south London. Why? Because he is a property guardian.
"All the services that are getting shut down, we end up living in those buildings," Duis, 34 and from New Zealand, tells IBTimes UK.
Property guardians occupy disused buildings on behalf of their owners in a licensing arrangement brokered by agencies. So their "rent" is actually a licence fee to live in the property, which is usually inclusive of utility bills – and much cheaper than in the private rental market.
Many guardians are refugees from London's housing market having been priced out by the sharp increase in rents. Between 2011 and 2015, London rents have risen 25.6% between 2011 and 2015 to hit a median of £1,350, according to Valuation Office Agency data. The median rent of a room alone has rocketed has by 23.53% to £525.
"Many of our guardians are key workers, such as doctors, teachers and firefighters, and guardianship can be a way for them to live near to their place of work much more cheaply," says Gavin Handman, head of operations at the Guardians of London agency.

The number of guardians is on the rise. Camelot Europe, one of the largest property guardian firms, tells IBTimes UK it has seen several robust annual increases in the number of London-based guardians on its books. From 2014 to 2015, there was a 25% rise. In 2013 to 2014, this was 15%; 2012 to 2013, 13%; and 2011 to 2012, 26%.
Flipboard magazine: London's rents crisis series in full
Simon Finneran, managing director of Ad Hoc Property Management, says the number of property guardians across the UK as a whole has increased 264% between 2010 and 2015.
"While the concept has been criticised for not being the final answer to the social housing crisis," he says, "it must be recognised that these houses are already empty, so filling them takes a level of pressure off the rental market.
"It reallocates some of the people that would have been either struggling to make ends meet, or reviewing their housing options.
"It therefore benefits local councils, who can revert budgets away from keeping these properties secure in other ways; it benefits the community through regeneration and providing tenants for properties that otherwise could stay empty for a long period of time; and it benefits a wide variety of people, from those struggling to find a place to live to young professionals saving up for a place to buy in the longer term."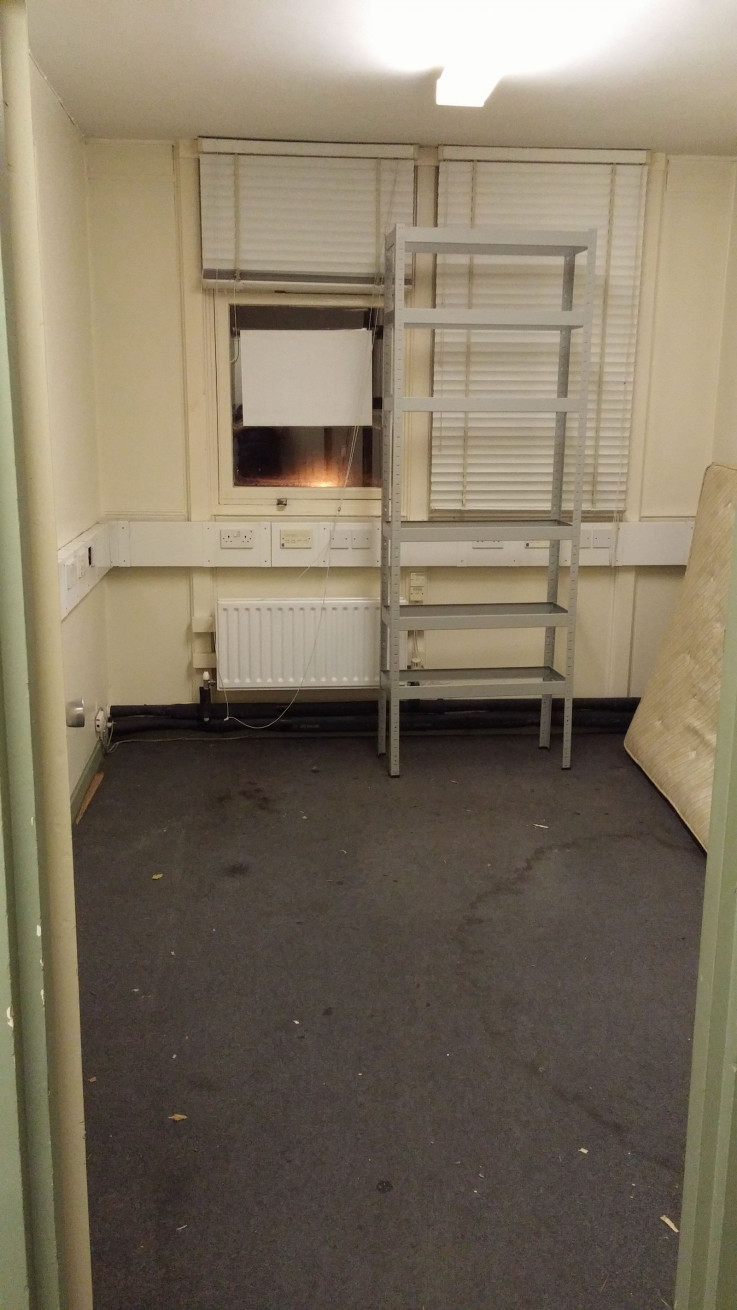 A room in Sydenham Police Station before it had been spruced up by the property guardian occupying it.
Rex Duis
Duis, a handyman and voice actor among other things, cannot afford to live in the traditional housing market without having to seriously compromise on his space and independence.
When he first came to the UK as a teaching assistant, he was forced to share bedrooms. Then someone introduced him to property guardianship.
"I had a huge space, a lot more independence and I could actually feel like a grown up rather than a teenager coming out of school," he says.
"That's why I came into it and I've not really been able to get out of it since then. I have had no financial situation where I could afford the rents, they just keep going up. And I find that I'm reluctant to give up that independence that I have of having my own room."
Andrea Balcombe, a property guardian in her mid-thirties who studies fashion design full time and works in the industry part-time, says: "Any other arrangement I know of would not give me the space or the location and also the cost."
Balcombe, who lives in the living and dining area on the ground floor of a 1930s semi in Walthamstow, adds: "There would be no chance to save any kind of money if I was staying anywhere else. That would not be an option."
The Methodist Church owns the property and is waiting for the retirement of a minister during the summer, who will then move in when the guardians are told to leave. Balcombe pays £470 a month because she has a large living space downstairs, though the kitchen and bathroom is still shared. The other two tenants in rooms upstairs pay just £320 a month.
Licensees or tenants?
The primary benefit to property owners of guardianship is that squatters are deterred, though there can also be some tax relief too. But it also means the licensees are not tenants and so do not have the same rights.
This is a point of contention. The licence is issued on the principle that the property is not exclusively occupied by the guardians. This is a similar situation to live-in landlords who rent out rooms in their property. They can tell a tenant to leave with short notice -- if that is what the written agreement was at the start of the tenancy -- then change the locks.
If a guardianship was what is called an "exclusive occupation", because the landlord does not live in the property, it would count as an ordinary tenancy. So the tenants would have the right to shut out their landlords.
This, according to Anthony Okumah, a solicitor at the property law firm Duncan Lewis, is a problematic area for guardian agencies.
Residential occupiers of property are entitled under eviction law to be given 28 days notice as minimum if they have to vacate it. Some guardian companies are known to give much shorter notice than this because they do not believe they are subject to the legislation as the occupants are licensees, not tenants, so they do not have exclusivity of the property.
Therefore, says Okumah, a test case is needed to to clarify the law and how guardians fit within it. Despite no-win, no-fee arrangements, no test cases have so far been brought by disgruntled former guardians.
"My personal view is that the [license] agreement itself is subject to challenge in the sense that what I've seen, two weeks' notice is not compliant with the protection of the Eviction Act," Okumah says.
"When they raise the issue of the license agreement and [that] there is no exclusive occupation of the property, the property owners do not reside in the property [...] neither do the guardian companies.
"So the fact that they allege there is no exclusivity, the court is subject to various interpretations."
'I shower anywhere I can but here'
There are also a number of practical problems with being a property guardian. Because many of the properties are not residential, showers, toilets and other facilities often have to be installed. Big rooms are carved up into separate bedroom spaces.
Depending on the size of the property, you can find many people sharing just a few facilities. Under house of multiple occupation rules, enforced by local authorities, there can only be a maximum of five people sharing one toilet.
But guardians are not tenants and so the same rules do not apply unless an agency chooses to adhere to them (which creates a contradiction for the many local authorities using guardian agencies but not enforcing their tenancy rules on them).
"They'll cram 10 people to one toilet and shower," Duis says. "In the last property I was in, a whole bunch of us ended up getting sick. And we were really sick, had to get antibiotics and were really unwell. That comes from overcrowding."
Where he lives now there are two showers for 17 people and the agency is not responsible for cleaning them. He says: "So I don't shower here anymore. I shower at work or the gym. I shower anywhere I can but here."
Then there is using the property as your primary address, which many guardian agencies do not want guardians to do, presumably because that would further blur the line between licensee and tenant. This causes obvious problems, unless you have an alternative such as a parent's address, when it comes to things like opening a bank account, registering to vote or being picked up in the census data.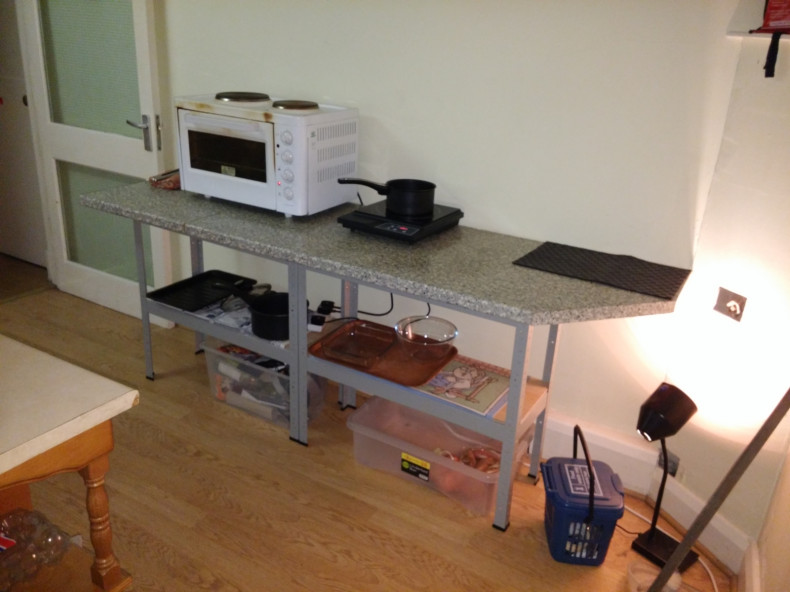 Gentrification
Despite its faults and flaws, guardianship remains attractive: the flexibility, the opportunity to live somewhere a little different and closer to central London. Above all, the cheaper cost of living. But that may soon be moot.
As the pressure on London's housing market increases, so does the demand from prospective property guardians. And the tightening up of squatting laws to criminalise it in residential properties has meant fewer owners feel the need to protect empty houses with guardians.
It has choked off that side of the market, leaving mostly just commercial property – constraining supply. That all means prices are creeping up towards the private rental market rates.
But it is not just those at the lowest end of the income scale who are looking to guardianship, so lifting demand and pushing up licence fees.
Like many areas of the London property market, guardianship is being gentrified. It is sold by some agencies to the hipster market as a fashionable bohemian alternative to traditional housing.
"You've got them all waxing their beards going 'this is cool' and their mums and dads are paying for half of it," Duis says.
"The rest of us who would otherwise be homeless – I did end up homeless on a park bench a couple of years ago – this is our last desperate option we can choose. They're squeezing us out as well."