A teenager has been found guilty of plotting to behead a British soldier after being inspired by the murder of Fusilier Lee Rigby.
Brusthom Ziamani, 19, was believed to be on his way to commit the act when he was arrested last August in east London carrying a 12in (30cm) knife and a hammer in a rucksack.
He was also found carrying a black flag similar to those associated with the Islamic State (Isis) when he was stopped by police.
During the trial at the Old Bailey, the court heard how he had "reverted" to Islam early last year and described the two people convicted of murdering Rigby in Woolwich as "legends".
He was arrested after he showed his girlfriend the weapons and told her he intended to attack and kill soldiers.
Earlier in the year, police searched his property as part of a separate incident and found a handwritten letter in a pair of jeans belonging to Ziamani which revealed his intentions to kill a solider and die a martyr.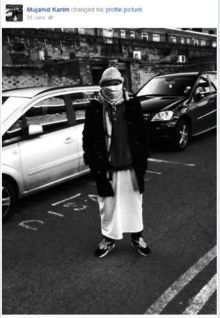 Other parts of the letter glorified the murder of Rigby and stated that "we should do a 9/11, 7/7 and a Woolwich all in one day".
Ziamani, of Camberwell, south London, has now been found guilty of preparing an act of terrorism. He faces life imprisonment.
During the trial, the court heard how Ziamani converted back to Islam in April 2104 and became more extreme as the months went by.
This includes becoming associated with the banned terrorist group al-Muhajiroun - or ALM – who offered him a place to stay after he was kicked out of his home.
Police said his rapidly developing views were demonstrated through his social media accounts, including posting on Facebook how he was "willing to die in the cause of Allah" and "Land of democracy = Evil".
Ziamani had denied the accusations against him, saying he only wrote the extremist posts to "fit in" with ALM as "they were giving me places to stay and they did not like moderate Islam".
He added he was carrying the weapons in his rucksack at the time of his arrest because he feared for his safety from gangs after getting out of a credit card theft operation.
Commander Richard Walton, from the Counter Terrorism Command, said: "This case starkly illustrates one of the threats we currently face in the UK. Ziamani was an impressionable young man who became radicalised then rapidly developed an extremist, violent mindset. Over a series of months he ultimately developed a desire to carry out a terrorist attack on British soldiers.
"The outstanding professional work of my officers in the SO15 Counter Terrorism Command, supported by MI5, has probably prevented a horrific terrorist attack taking place on the streets of London.
"We continue to be trusted and supported by all communities and rely on this to defeat terrorism."
Ziamani is due to be sentenced on 20 March.