Islamic exteremists threatened to behead a Full Sutton Prison guard after an imam holding a prayer service offered condolences to the family of murdered soldier Lee Rigby.
Feroz Khan and Fuad Awale tried to take control of the high-security jail, in East Yorkshire, in a ferocious coup that saw the pair target prison guard Richard Thompson because they thought he was ex-British military.
The Old Bailey heard how tensions between the prison's Muslims inmates and its guards escalated after the murder of Rigby on 22 May 2013.
The convicts, who were sentenced to a further six years in prison, battered Thompson and pinned him to a chair while Awale issued the chilling threat: "Stop struggling, I've killed two people. I'll kill you"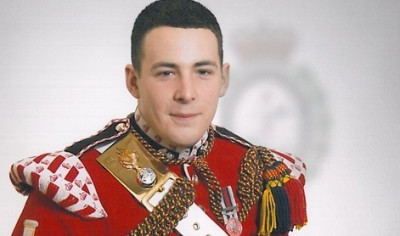 They had tried to recruit other Muslim inmates to help overrun the facility four days after the killing of Rigby.
Both men, who were convicted of making threats to kill last month, were already serving life sentences.
Khan shot a friend in the head at point blank range after luring him to a park in Bradford in February 2007 - wrongly believing he was having an affair with his wife.
Awale, who was born in Somalia, became a devout Muslim after being convicted of the double murder of two teenagers in a Milton Keynes drug feud in January last year.
As part of their negotiation with prison staff, the inmates demanded the release of hate preacher Abu Qatada, who was awaiting deportation to Jordan at the time of the incident in May 2013.
Mari Reid, from the Crown Prosecution Service counter-terrorism division, said:
"The incident at HMP Full Sutton in May last year was carried out in the wake of the savage murder of Fusilier Lee Rigby.
"Feroz Khan was the instigator and leading figure of this threatening duo. As individuals, they had been jailed as dangerous murderers and working together they were shown to be brazen operators who made a number of demands including the immediate release of Abu Qatada and Roshonara Choudhry.
"The prisoner officer was subjected to a terrifying ordeal and was struck so hard that his right cheek bone was fractured. Today's convictions show our determination to protect prison officers from such violence and bring the full force of the law against perpetrators."