London is in the midst of a gastronomic revolution. As the traditional high street declines, American restaurants are taking over the city with their calorie-laden delights. Burgers, hot dogs and French fries galore – fast food is back in fashion.
But the new boys in town, like US chain Five Guys and other members of the Americana restaurant gang making their way across the Atlantic, are following in the footsteps of an established British firm, Ed's Easy Diner.
Ed's is a child of the 1980s – it opened its first outlet in Soho in 1987. But this restaurant isn't about Maggie Thatcher, enormous mobile phones or power suits. It's all about retro-American dining.
Stepping into an Ed's is like entering a time machine. The mini-juke boxes, the 1950s furniture and the milkshakes – you get a snapshot of what it would be like to be Marty McFly.
The business was held in trust after its founder, Barry Margolis, passed away in 2005. In 2009, chief executive Andrew Guy purchased the chain with help from other investors.
The Welshman, who worked in hospitality in the US for six years, went full time in early 2011 when the company had five outlets. Now, the chain has 31 restaurants and plans to hit the 50 mark by the end of next year.
If restaurants are judged by anything else, it is by their brand and their menu. So IBTimes UK asked Guy if much had changed over the years on Ed's food offering.
"We dropped an item which wasn't selling," the chief executive said. "It was a hamburger that had melted cheese and a fried egg. It didn't sell. But we've introduced a few things, including a pulled pork burger."
Attack of the Burger Joints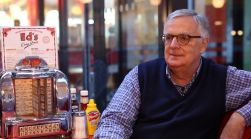 But what does Guy make of the resurgence of so-called gourmet burgers, aren't the new chains a threat to his business?
"It's great that hamburgers have become popular. Some of the new arrivals are just terrific," Guy said.
"We don't focus on being in the hamburger business, we're really in the dinner business and that sets us apart.
"About half of our customers have a hamburger, the other half have hot dogs, chicken and salad, and some of the other things we offer. The market is a long way from being saturated."
The chief executive explained that the cultural phenomenon of Americana was at the core of the business' success and stressed that diners "have never gone away."
"They've always been on television and movies," Guy said.
"When the public see us, when we open in a new town or city, they have probably never been to an Ed's. But, even before they go in, they know what a diner is.
"When we conducted extensive market research, Americana was the number one reason why people came – it was that little piece of American nostalgia."
'The Strongest Marketing Tool'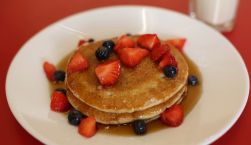 Another cornerstone of the restaurant chain's business is its loyalty scheme, which was established in 2009. Initially, a few thousand fans exchange emails about the food outlet, according to Guy.
But the company formalised the system and created Ed's Club. The loyalty scheme enables fans of the chain to stay up-to-date with news and are given access to "exclusive offers".
The company also put on competitions for its followers – most recently giving away tickets to the NFL London 2014 game at Wembley Stadium on 26 October. With 502,000 members, it's no surprise that Guy dubbed Ed's Club his "strongest marketing tool".
With all these factors in consideration, it looks like the privately-owned company is in good health. In fact, its total sales jumped by 87% last year from £9.4m ($15m, €11.8m) in 2012 to £17.6m in 2013.
However, Guy explained that he is looking to sell the business partially or entirely next year.
"We can fund the business right the way through next year – we have got that arrangement with our banks and private investors," the chief executive said.
"But to take the business on further, we probably need more help. So we are looking now into a transaction for the company in the last quarter of next year.
"We have retained advisers who are steering us through that process. But I think there are opportunities for this style of business in this county."