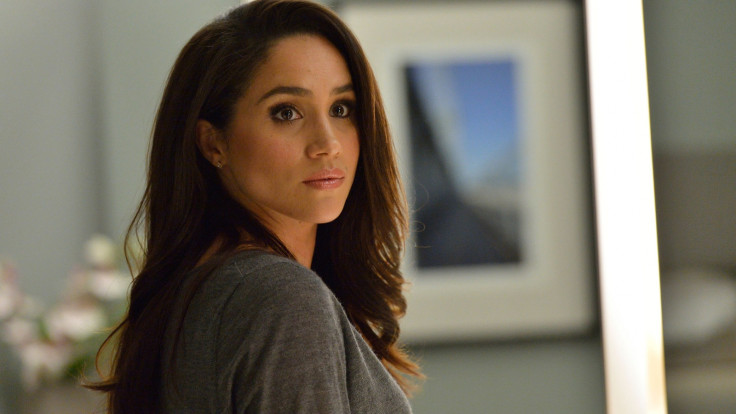 Prince Harry's girlfriend Meghan Markle, who plays Rachel Zane in legal drama Suits and has filmed some racy scenes in the online webisode of the USA Network series.
In one of the scenes, she is seen in bed with two of her co-stars, Rick Hoffman (Louis Litt) and Patrick J Adams (her on-screen fiancee Mike Ross). The actress, who has dated Harry for almost a year now, has revealed that she never shies away from filming frisky scenes.
Markle is quoted as saying by Express.co.uk: "The webisodes give us opportunities to have fun and be playful. It's great, you can be silly on them."
Speaking about the bedroom scene in one of the web episodes, she added: "You have gotta see it! Rick and I re-enact Rachel's sex scene in the filing room with Mike but in Spanish."
There is a downside to her character's popularity, however, as the 35-year-old had become the target of angry fans when Rachel cheated on her boyfriend Mike with an ex-lover. "It was a nightmare. Especially Twitter and especially a lot of the UK fans. The young UK gentlemen were very angry because many of them relate to Mike," Markle said.
She continued: "(This) was my first understanding of how people can mistake a character for the real person. They said they wanted me to die. It was very consistent and it was happening a lot. People can be vocal in a way you'd never expect."
Markle recalls calling the show's creator to pull back the storyline following the backlash. She said: "I remember calling Aaron [Korsh], our creator, and telling him, 'You've got to pull this back. I told you I'm not comfortable with it. It's vilifying Rachel in a way that we have never had to deal with before.'
"But we were told that all of the characters need to be humanised, so they have to be flawed. The audience might not like all of us at a certain point but they always need to love us," she added.
Harry and Markle's romance came into the limelight in November with an official statement from Kensington Palace. She made her first official appearance with the 32-year-old royal at an exclusive polo event in Ascot on 7 May. On 20 May, the USA Network star attended Pippa Middleton's wedding reception in Berkshire with Harry, further fueling rumours of a soon-to-be royal engagement.
IBTimes UK have reached out to Markle's rep for comment.