While she was expected to accompany Prince Harry to Pippa Middleton's wedding, Meghan Markle was noticeably absent sparking speculation as to her whereabouts.
The American-born star was nowhere to be seen at the church service, with Prince Harry, 32, instead arriving alongside his elder brother, The Duke of Cambridge, Prince William.
However, hours after the wedding ceremony, according to E! the Suits star reportedly emerged with Prince Harry to attend the reception at the Middleton's £6m family home in neighbouring Bucklebury, on Saturday evening.
The stunning TV star arrived just in time to watch a majestic flypast by a Word War Two-era Spitfire plane, joining guests to watch the spectacular aerial display from a £100,000 glass marquee in the Middletons' estate at 7.15pm.
However, she kept clear of cameras, ensuring to maintain a low profile amid the media interest in her relationship with Prince Harry.
It was initially thought that Pippa had made an exception to the "no ring, no bring" rule to allow Prince Harry to attend with his girlfriend. However commentators speculated that the actress deliberately stayed away from the church service for fear of upstaging the bride by her presence amid reports that she was to make her first formal appearance with Prince Harry.
And while she skipped the ceremony her inclusion at the family wedding reception is being regarded as confirmation of her status as a potential bride-to-be to the prince.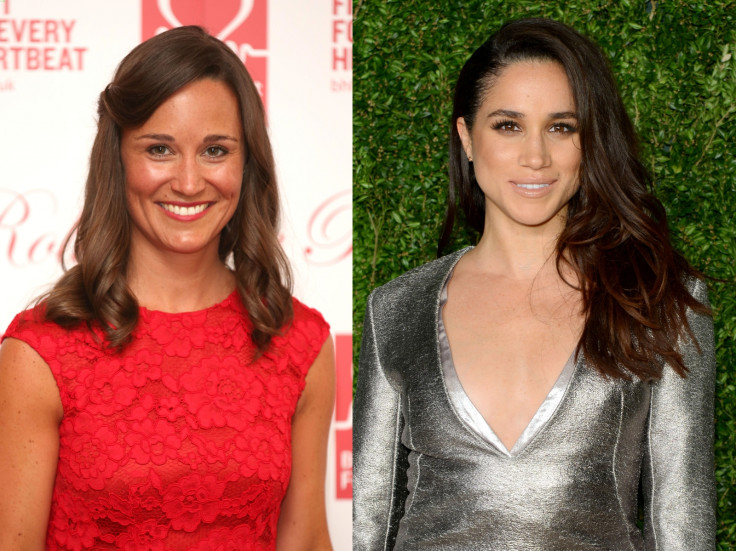 Meghan arrived in London last Wednesday and was driven straight to Kensington Palace ahead of the wedding festivities.
Pippa Middleton tied the knot with hedge fund manager James Matthews at St Mark's church in Englebury today (20 May). The wedding was attended by several members of the royal family, including her sister Kate Middleton, while the Duke and Duchess of Cambridge's son Prince George and daughter Princess Charlotte served as page boy and bridesmaid.