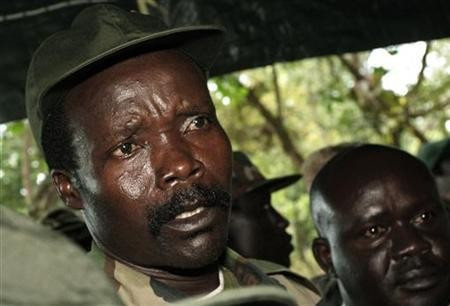 The Lord's Resistance Army (LRA) leader and fugitive warlord Joseph Kony has asked for mercy in a letter to Ugandans.
The self-proclaimed mystic, whose infamous army is accused of abducting and enslaving thousands of children across eastern Africa, has also called for a resumption of peace talks to end the insurgency.
"We are willing and ready to forgive and seek forgiveness, and continue to seek peaceful means to end this war which has cut across a swathe of Africa for the people of the Great Lakes and the Nile-Congo Basin to find peace," reads the letter.
Kony, who is believed to be hiding in DR Congo and the Central African Republic (CAR), has been eight years on the run and has a $5m bounty on his head.
"I want to assure the people of Uganda that we [the LRA] are committed to a sustainable peaceful political settlement of our long war with the government of [President] Museveni," reads the letter.
However, the government's press officer Ofwono Opondo dismissed Kony's plea for new talks, saying that the warlord already wasted his opportunity.
The previous peace talks between the Ugandan government and the LRA, in 2008, failed over Kony's fears that he would be transferred to the International Criminal Court (ICC).
Kony, who claimed that spirits told him to seize Uganda and run the country according to the Ten Commandments, came to the attention of the international community 20 years ago when his militia fought the Ugandan government of President Museveni.
The Ugandan Christian militia operates in a number of neighbouring countries including South Sudan and the Democratic Republic of Congo and has ambushed and mutilated civilians and poached elephants for their ivory, which it sells to buy arms and fund operations.
The group has kidnapped tens of thousands of children who have been used as soldiers or turned into sex slaves.
A documentary, Kony 2012, made by a group called Invisible Children, which begged the international community to prosecute Kony for war crimes, has been watched almost 100 million times. The African Union has sent a force of 5,000 soldiers to hunt for Kony and his fellow commanders.
The campaign was hit by a backlash amid accusations ranging from misinformation to lack of transparency.