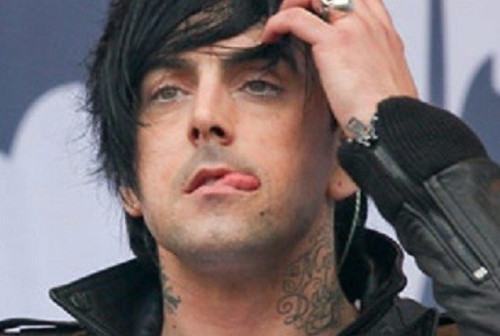 Disgraced Lostprophets singer Ian Watkins said he was not a paedophile despite pleading guilty to a string of child sex offences. His crimes were "megalolz", he said.
Watkins, who has been sentenced to 35 years in jail after been found guilty of a string of child sex offences, said he "didn't know what everyone is getting worked up about" following his guilty plea in November.
During sentencing at Cardiff Crown Court, two phone calls were played of Watkins while he was in custody at Parc Prison in Bridgend.
In one call to an unnamed woman, made the day after he pleaded guilty, he said he was not a paedophile but admitted to the charges in order to avoid a trial.
A transcript of the conversation which was read out in court said: "It was, like, either me go up there and say 'Come on, it wasn't that bad, nobody got hurt', I do my charm. Or do I end up making things worse for myself? Or do I just say I was off my head and can't remember?"
When discussing his possible sentence, he added: "I'm going to put a statement on the 18th now just to say it was megalolz, I don't know what everyone is getting so freaked out about."
In a second conversation the following day, he also said how none of his victims were harmed and most of what he had said in the past was because he had been on drugs.
He said: "It's so hard. There's a lot of f*****g meaningless b******t like chat that I did to show off when I was f*****g off my head.
"There was no medical evidence, nobody was harmed at all.
"I'm not a paedophile, I'm not. You know I pled guilty just to avoid a trial, not realising 'Hang on, that makes me look a bit guilty' but I would never harm anybody."
When the woman he was speaking to asked if he still considered his behaviour "megalolz", Watkins replied, "No, it's just lolz now".
Watkins, 36, of Pontypridd, admitted to 13 sex offences, including attempting to rape a child, sexually assaulting a child under 13 and aiding and abetting a female codefendant to sexually assault a child under 13.
Watkins, who was described as a "a determined and committed paedophile" in court, also admitted conspiring to rape a child, three counts of sexual assault involving children, seven involving taking, making or possessing indecent images of children and one of possessing an extreme pornographic image involving a sex act on an animal.
The judge said Watkins showed "evident delight" in abusing children and had shown "an almost complete lack of remorse" for his actions.
His co-accused, known only as Woman A and Woman B, were sentenced to 14 years and 17 years respectively.
Upon sentencing, Judge Justice Royce told all three the crimes they had committed "plumbed new depths of depravity".