Lee el articulo en Español aqui.
Spanish football experts believe Manchester United manager Louis van Gaal is to blame for Angel Di Maria's ordeal at Old Trafford and suggest his future at the Premier League giants will depend on whether the Dutch boss remains in charge next season.
The Argentina international moved to United in the summer of 2014 for £59.7m (£89.1m) after an impressive last campaign, winning the Champions League and the Copa del Rey at Real Madrid while also reaching the World Cup final.
However, the midfielder is failing to replicate that form at Old Trafford, where he has managed to score just four goals.
With some reports suggesting the man from Rosario may leave the club in the summer, IBTimes UK has spoken to Spanish football pundits from Marca, AS, El Confidencial and radio station Cadena Cope – four of the biggest outlets in Spain - to analyse the situation.
When asked whether Real Madrid did good business by selling him to United, Jose Felix Diaz (@jfelixdiaz), who covers Real Madrid issues for Marca, has no doubt.
He said: "It was the sale of the year. He is a good player but he is not worth what United paid. He handed an ultimatum to Real Madrid by asking for more money, and Real Madrid agreed to sell him. They just urged him to bring a good offer to the club, and he did it."
Tomas Roncero (@As_TomasRoncero), Real Madrid chief editor at AS, looked at it slightly differently, saying: "I think he fitted very well into Real Madrid's direct style because, playing as a third midfielder, apart from talent, he added hard work to keep the balance.
"I honestly think it was a sporting mistake [to sell Di Maria] but when a player wants to leave and his salary expectations are uncomfortable, you have to accept his departure, especially when another club pays you £59.7m. It was an inevitable piece of business. I didn't like it in terms of sport but economically it was good."
Kike Marin (@Kike_Marin_), senior sports editor at El Condifencial, concurred with Roncero by saying: "Economically it was good business for Real Madrid but in terms of football, swapping Di Maria for James was not that good."
Fernando Evangelio (@ferevangelio), Cope's expert in international football, believes Di Maria was good, but not at any price.
He said: "He was a very important player for Real Madrid, even though earlier in the season he had a critical moment [when he thrust his crotch at fans] and it seemed like his time at the club was over. Ancelotti managed to overcome the situation and his direct style helped Real Madrid to break many games.
"But he [Di Maria] has a very high self-esteem, he believes he was very good but not valued enough by the club. So Real Madrid, when they received such a lucrative offer, made a good decision by selling him because the player was unlikely to stay, given the salary offer made by the club."
'Van Gaal doesn't know what he wants - and Di Maria isn't happy'
No matter their views on the rights and wrongs of Di Maria's sale, all four journalists are agreed on the root cause of his travails at Old Trafford.
Diaz said: "I am not surprised about his situation because even at Real Madrid he had many problems in settling. He even had some rifts with the supporters and finally forced his exit.
"But Van Gaal is the main problem. He doesn't know what he wants. Either with Di Maria or with the other players. There are other things, like Mata's situation, that nobody understands."
Roncero agreed, saying: "I thought the Premier League was tailor-made from him too. He looks very good for the end-to-end game that is played in England. Furthermore, I thought at United he was going to be the leader and every other player was going to play around him.
"But I am aware that Di Maria thinks Van Gaal is not handling him as well as Ancelotti did. He deploys him out of his comfort-zone and is not giving him the leadership that he expected when he signed. He is disappointed with Van Gaal and believes he is not playing his best because of him."
Marin added: "Adapting to the Premier is not easy for any player and is especially complicated going to a team with a turbulent situation like United's. I wouldn't say Van Gaal is guilty but he is certainly responsible.
"At Real Madrid it was clear that Di Maria needs spaces to thrive and Van Gaal is obsessed, as he is with other players, with deploying him out of position. This is counterproductive to his adaptation too. The red card against Arsenal was just proof of his frustration."
The Cope expert also believed the United manager is driving the players mad, He said: "Van Gaal is making too many changes. He has no clear pattern of play. Di Maria started playing in his preferred position, in a counter-attacking style, but Van Gaal then changed that style and Di Maria was affected.
"The closer to the rival goalkeeper Di Maria plays, the less space he has to run and that is bad for him. For example, during the last game against Arsenal he played a little bit deeper and played much better. The manager's decisions are definitely hurting him and it is obvious his first season at Old Trafford is proving quite poor."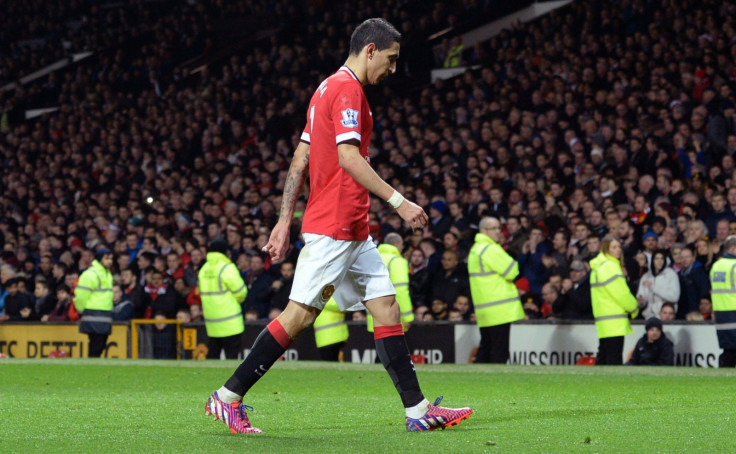 Given these problems, the Spanish experts believe Di Maria's future at Old Trafford will be directly related to Van Gaal's own future at the club.
Diaz said: "Knowing Di Maria I would not be surprised should he request to leave this summer. At Real Madrid he was uncomfortable from his second year. He has problems in overcoming difficult moments, when things don't go as he expect he thinks too much about it and performs beneath his level.
"He is good but inconsistent. He has many ups and downs during a season but the problem here is mainly Van Gaal. Di Maria's real level is not the one he is currently showing at United. He isn't worth what United paid for him but he is still a good player."
'If Van Gaal stays, he will go'
Roncero added: "Even though on the pitch he is a strong player Di Maria is eventually weak-minded and his mindset is unclear. That's why he left Madrid - because he had no clear idea about what he wanted. If Van Gaal stays, I think he will go. If Van Gaal leaves, it may be a different story. If PSG try to sign him again he may consider it as a good choice to redirect his career."
The Confidencial senior editor insisted: "The future will depend on the stability of United and not just for Di Maria. Other players like Mata or Ander Herrera may also have problems. Di Maria's case is especially problematic because United paid a huge amount for him and because of his personality. He is the typical guy that is not easy to handle, and as soon as he is not comfortable with something, he wants to go.
"But the future of the United probably lies on taking a decision on Van Gaal. With Moyes they had less patience. It is true that after Moyes, taking another drastic decision is difficult, but what is better - to change a lot of players or just one coach? If only a couple of players were not performing well it may be a player problem, but when nobody works Van Gaal is responsible. And with Jorge Mendes [Di Maria's agent] involved anything can happen. "
Evangelio, however, believes Di Maria will try to overcome the situation rather than throwing the towel in too quickly.
He said: "During his career he has been influenced too much by the advice of his father but I cannot see him making a new move to another club this summer. It is more an intuition than information though.
"But I guess he will try to overcome the situation to thrive at United. Then if within two or three seasons he fails he may look to move somewhere else, but I do not think he will do it this summer."