They have been married almost five years, but it looks like Kate Middleton and Prince William haven't let the monotony of marriage kill their passion. The loved-up royal couple were recently spotted battling it out in a snowball fight during a family ski trip to the French Alps.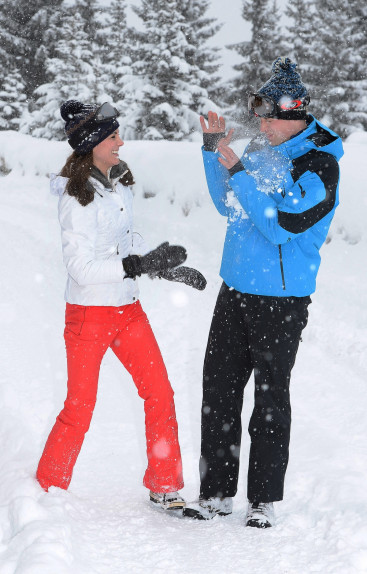 Prince George and his sister Princess Charlotte got to tick off another one of their many firsts as they joined their parents for the snowy retreat. The trip was the first time the family of four had been on holiday together. They however returned to England from their break in time to celebrate Mother's Day.
In the images taken by the Press Association's veteran royal photographer John Stillwell to mark the special milestone, the family can be seen posing in ski jackets and hats, with the couple sporting ski goggles. One snap shows a growing Charlotte with a wide grin showing off two small teeth. Another shows the couple putting on an amorous display as William held his wife close.
"The Duke and Duchess of Cambridge are delighted to share new photographs of their family. The images show Their Royal Highnesses enjoying a short skiing holiday with their children in the French Alps. This was their first holiday as a family of four and the first time either of the children had played in the snow," a Kensington Palace spokesperson said of the pics first unveiled on twitter.
As skiing is a favourite pastime of the royals, it is likely that Prince George and Charlotte will soon be taking to the slopes during future school holidays. Both avid skiers, Middleton and William haven't been since becoming parents in 2013.
The royal couple will soon be heading for warmer climes in April when they embark on their four-day visit to India. Their very own Indian adventure, which will see them visit Mumbai, New Delhi and Assam. They are expected to take in sights including the iconic Taj Mahal in Agra and Kazaringa National Park, a world heritage site that contains two-thirds of the world's greater one-horned rhinos.