Ever wondered what the royals wear when they are lounging around in their castles? Well, this may give you some idea. It has emerged that Kate Middleton and Prince William sport his and hers luxury dressing gowns.
Gifted to them by Prince Charles for their 2011 wedding, the elegant cashmere dressing gowns, said to be worth £8,000 ($11,000) each, were commissioned by royal warrant-holder Turnbull & Asser – official shirtmaker to the Prince of Wales – and designed by Daniel Hanson.
The Duchess of Cambridge's is white with silver piping with embroidery, which reads Princess Catherine and William's is navy blue with contrast piping and a belted waist, with his name embroidered inside. Both the gowns have a silk lining to keep the pair cool during the warmer seasons.
Hanson, who has created dressing gowns for the likes of Sir Elton John, Brad Pitt and John Travolta, said that the final touches to the bespoke gift were not added until the last minute. "Because they were presents, the decision about what to use inside had to be made before the wedding. Their titles weren't disclosed until the wedding, so we had to speculate on what she would be called," he told People magazine.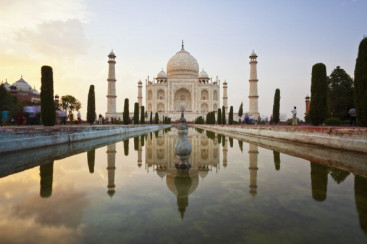 Although he declined to disclose the cost of the gowns, as bespoke commission, they were at the top end of his collection and cost upwards of £8,000 each. He did reveal that the material was sent to India to be embroidered by family embroiderers in Srinagar in the state of Jammu. The fabric was then returned to the UK, where it is turned into a robe.
Despite dressing the rich and famous, the Nottingham-based designer is understandably discreet about his royal patrons, telling the Daily Mail: "Although we have been doing this for more than 25 years we don't look for publicity as a company. We are not an uninteresting company, of course, but we don't seek the limelight."
Meanwhile, the royal couple are preparing for their own Indian adventure, which will see them visit Mumbai, New Delhi and Assam. They are expected to take in sights including the iconic Taj Mahal in Agra and Kazaringa National Park, a world heritage site that contains two thirds of the world's greater one-horned rhinos.
A Kensington Palace spokesperson said: "The Duke and Duchess are very much looking forward to their tours of India and Bhutan. They will pay tribute to India's proud history, but also are keen to understand the hopes and aspirations of young Indian people and the major role they will play in shaping the 21st century."
They added: "Their visit to Bhutan will allow them to continue a relationship between two royal families by meeting the king and queen. The Duke and Duchess have heard many wonderful things about the country and are grateful to have this opportunity to get to know the Bhutanese people."