Liverpool striker Luis Suarez cheated by diving trying to win a penalty against Stoke City, according to Fifa vice president Jim Boyce.
The Uruguayan fell, seemingly unchallenged, during the goalless draw against The Potters in the Premier League at Anfield, leading Tony Pulis to demand retrospective action against the striker.
And Boyce, having viewed the incident, has branded Suarez a cheat and said that retrospective action for diving should be implemented more broadly in the game.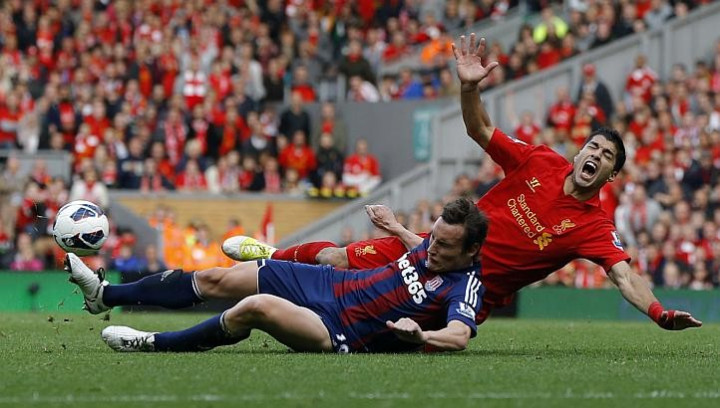 "I have seen several incidents and the Suarez incident, and to me it is nothing less than cheating," he said.
"It's becoming a cancer within the game. If it is clear it's simulation, they should be severely punished.
"It can be dealt with retrospectively by disciplinary committees - it is done so in some associations - and I believe that is the correct thing to do.
"It can at times be very, very difficult for referees to judge whether something is a foul or a fair tackle and if players are diving then it makes their job even harder."
The Football Association don't currently take retrospective action over simulation, instead handing officials the responsibility to spot offences, with a yellow card deemed a suitable punishment.
An FA spokesman said: "Simulation is not something that the FA currently take retrospective action over but it is an issue that is often reviewed and discussed by the game's stakeholders."
The incident on Sunday was the latest in a catalogue of controversies involving Suarez, who was booked for simulation during Liverpool's draw with Sunderland earlier in the season, and Pulis says the FA must act to stamp out diving.
"I've been on about and banging the drum about people who fall over," said Pulis. "It's an embarrassment. The FA should be looking at this.
"Suarez is a fantastic player with great ability," added Pulis. "He is a handful and he is the one player we are frightened to death about.
"What happens is that he puts enormous pressure on the referee. Every time he goes down, you have got 40,000-odd Liverpool supporters getting after the referee and I don't think that's right. It is a tough enough job as it is."
Liverpool boss Brendan Rodgers has jumped to the defence of Suarez, and claimed that Robert Huth's stamp on the forward, which went unpunished during the game and retrospectively, should also be looked at.
Suarez was also denied a penalty in Liverpool's defeat to Manchester United last month and former striker Roger Hunt says the forward is in danger of ruining his reputation as he continues to make the most of challenges in the penalty area.