Luis Alberto Suárez Díaz is good for two things: making headlines and scoring goals.
The controversial Uruguayan striker most recently made headlines when he bit Italy's Giorgio Chiellini on the shoulder during this summer's World Cup in Brazil. In response Fifa dished out a brutal but deserved punishment, including a four-month ban from all football-related activity.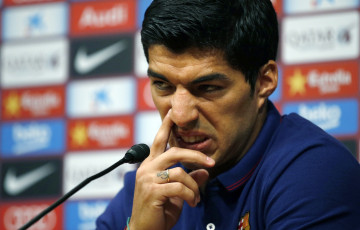 The ban was relaxed last week to allow Suárez to train with his new team Barcelona and make his debut in a friendly on Monday against Mexican side Club Leon.
Following that game he spoke about the summer's incident, but after so many excuses and apologies is it even possible to take such a ridiculous human being seriously anymore?
He said: "I say to fans, don't worry, because I won't do that anymore… I spoke to my psychologist and he said I had to face it and say sorry. I did – now I would rather focus on the present, which is Barcelona."
Good! Well done. Now let's take a look back at what Suarez had to say after each of his most famous misdemeanours…
---
The Uruguayan 'Hand of God' – July 2010
"The 'Hand of God' now belongs to me. Mine is the real 'Hand Of God'. I made the best save of the tournament. Sometimes in training I play as a goalkeeper, so it was worth it. There was no alternative but for me to do that and when they missed the penalty I thought, 'It is a miracle and we are alive in the tournament.'
"Now we are in the semi-finals, although I was very sad because no-one likes to be sent off. The celebration afterwards was impressive, but very quiet because nobody gave us a chance but, with courage, we move forward."
---
Bite #1: Otman Bakkal – November 2010
"No, I do not regret what happened. Normally I always keep calm but I didn't… I'm a little tired. This week I had to travel a lot.
"In those moments you can only feel your heart beating strong, you are not able to think about what you are going to do and after you just feel bad and regret."
---
Racial Abuse Of Patrice Evra – October 2011
"I'm upset by the accusations of racism. I can only say that I have always respected and respect everybody. We are all the same. I go to the field with the maximum illusion of a little child who enjoys what he does, not to create conflicts."
---
Bite #2: Branislav Ivanović – April 2013
---
Bite #3: Giorgio Chiellini – June 2014
"After the impact… I lost my balance, making my body unstable and falling on top of my opponent, at that moment I hit my face against the player, leaving a small bruise on my cheek and a strong pain in my teeth."
See you all next time Suarez decides being one of the best footballers in the world isn't enough!