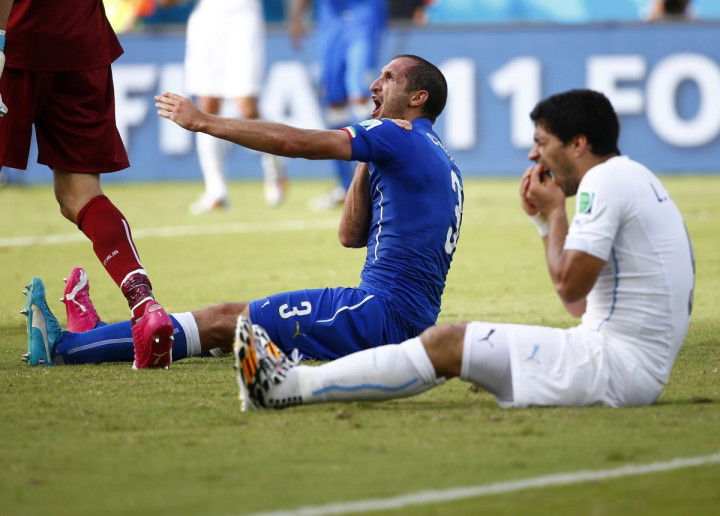 Luis Suarez's now infamous bite attack on Italy defender Giorgio Chiellini has hit headlines all over the world and prompted one intrepid reporter to crunch the numbers and answer the question: just how likely is the average footballer to be bitten on the field?
Star Uruguayan striker Luis Suarez has been banned from international football for nine matches and all football activity for four months, and fined 100,000 Swiss Francs for the attack – which he denies, claiming he fell on the defender with his mouth open. The Uruguayan Football Association is expected to appeal the ban.
The bite, during Uruguay's last group match against Italy was his third. He has previously bitten two other footballers during mid-match flare-ups: PSV Eindhoven's Otman Bakkal in a Dutch Eredivisie match in November 2010, and Chelsea's Branislav Ivanovic in a Premier League clash in April 2013.
This prompted New Statesman journalist Ian Steadman to ask: how likely is a footballer who lines up against Luis Suarez to be bitten? Assuming that Suarez has played in a total of 441 professional games – 363 club league, cup and friendly matches since breaking into senior team at his local club, Nacional, in 2005 and 78 times for the Uruguay national team – Steadman calculated the average footballer has a one in 2,050 chance of being bitten by Luis Suarez.
"Suarez's bite rate of three in 441 means we can expect him to take a bite out of someone every 147 matches. But if we assume that there are 14 players at risk of being bitten (that's 11 starting players and assuming three substitutes come on) that means Suarez has bitten three players out of the 6,160 who have lined up against him in his professional career.... We can therefore conclude that Luis Suarez has roughly a one in 2,000 chance of biting any individual opposition player."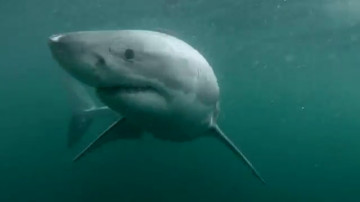 How does this compare with other freak biting events – say a shark bite? Steadman considered the rate of attacks in New Smyrna Beach in Florida, US, regarded as the shark attack capital of the world. The town has a population of 22,464, according to 2010 census statistics.
The Global Shark Attack File has recorded four attacks in New Smyrna Beach in the first six months of 2014. So assuming an average of eight attacks this year, and assuming every member of the town's population of 22,464 takes a swim once during 2014, that gives a chance of a shark bite once in every 2,808 swims. The record number of shark bites in New Smyrna Beach was 28 in 2008, or a chance of a bite once in every 803 swims.
"The average is likely somewhere in the range between the two figures. This means that Luis Suarez is almost exactly as likely to bite someone as a shark is in the very definition of 'shark-infested' waters."