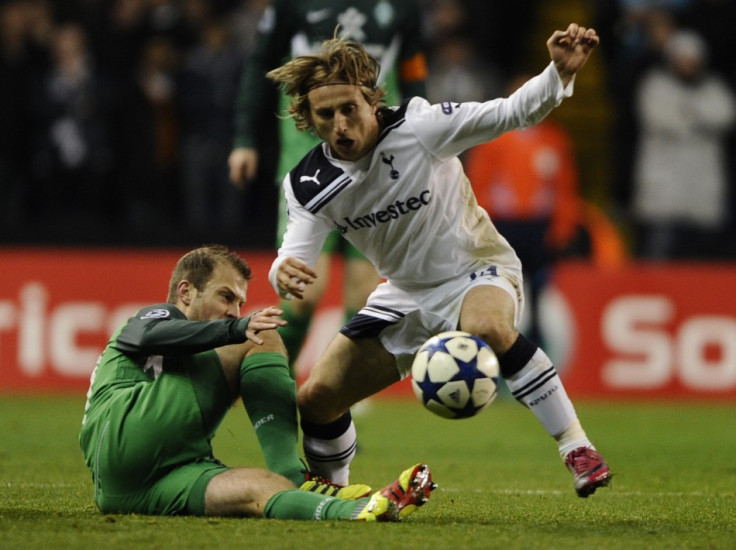 Tottenham Hotspur sensation Gareth Bale believes Luka Modric is 'happy' at White Hart Lane despite being denied a move in the summer.
Spurs chairman Daniel Levy rejected a number of bids from their Premier League counterparts, Chelsea, during the Blues' protracted pursuit of the Tottenham Hotspur talisman.
Modric evidently desired a lucrative transfer to Spurs' London rivals, but Bale now suggests the pint-sized midfielder is happy at White Hart Lane.
The Welshman, who has also been linked with a move away from Tottenham, believes it was imperative Levy and Harry Redknapp retained Modric, because it showed the rest of the squad their intent for the forthcoming season.
Modric has been the fulcrum to Tottenham's recent scintillating form and Bale believes the Croatian international is happy he stayed given their current Premier League standing.
"That we actually kept our best players shows the intent of the club, probably even more so than signing new ones," The Tottenham Hotspur winger told The Daily Mail.
"It gives a message to the players and the fans that we're looking to go forward, that we're not content just to sit on that line between fourth and fifth.
"The chairman always said Luka wasn't going - I'm not sure what Luka thought.
"But Luka is definitely happy where he is. He is enjoying his football and we're level on Chelsea with a game in hand. He is definitely enjoying it."
Although Modric appears settled at the club and their rumours of on-going contract negotiations Chelsea and Manchester United have continued to be linked with the player ahead of next month's transfer window.