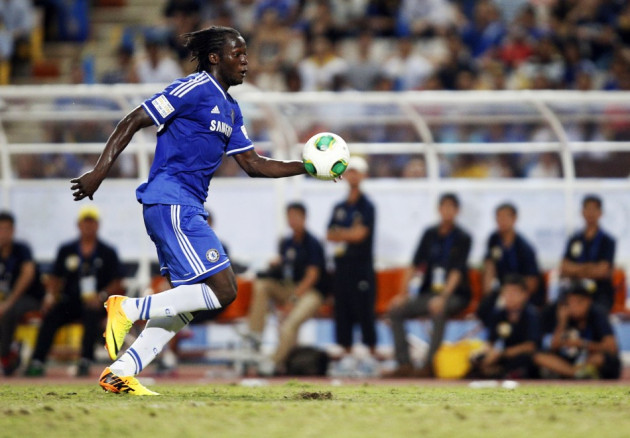 Wayne Rooney would be welcomed at Chelsea should he join from Manchester United this summer, according to Blues striker Romelu Lukaku.
Chelsea submitted a bid for Rooney last week and the England international's future with the Premier League champions was thrown into doubt after David Moyes appeared to suggest the 27 year old will play second fiddle to Robin van Persie next season.
With Fernando Torres expected to miss the start of the season after playing in the Confederations Cup for Spain, Lukaku is likely lead the line for Chelsea at the start of the season ahead of Demba Ba, but would have competition from Rooney should he join from United before the end of the transfer window.
"It is the manager's choice," said the 20-year-old Belgian. "If he is part of our team I will welcome him with open arms."
New United manager Moyes has continually insisted that Rooney, who submitted a transfer request prior to the end of last season, is not for sale.
Rooney's future was the subject of intense speculation last season after he was often overlooked in United's big games as Van Persie was intrusted with leading the club to a record 13th Premier League title.
Lukaku scored 17 goals in the Premier League last season while on loan at West Bromwich Albion and despite Chelsea being linked with Rooney, the Belgian is among the contenders to spearhead the club's attack in the new season under Jose Mourinho.
The 19 year old has scored in both of the club's pre-season wins over Thailand All-Stars and Malaysia and to continue his involvement into the new campaign, Lukaku is willing to make sacrifices.
"He is the manager and he has a vision of the way he wants to play," added Lukaku. "The players have to improve to do that. I certainly have it in me. When you are playing for a team like Chelsea, there is going to be competition. I like competition from the first time I came here.
"He is a great manager. He is very direct. I would not say he has given me a hard time but he is very direct and in your face. I love that. It is important. If he has something to say to you he says it. That's a good thing.
"We're improving a lot and training very hard. I have to work more than I ever have but I like to work and I feel I am making an impact. I am confident in my qualities. I can score more goals, get more assists, score with both feet and my head. I am very quick and skilful.
"I can do a bit of everything but I can improve on things as well. I can do more for the team."