Lukas Podolski gave the Arsenal fans a glimpse of what life could be like without Robin van Persie as he scored two well-taken goals in the 4-0 pre-season friendly win over former club FC Cologne.
The German international received a rousing reception from both sets of supporters as he returned to the stadium in which he made his name, but there was little room for sentimentality as he helped Arsenal secure a ruthless 4-0 win.
While there was plenty of support from the Arsenal fans for Podolski, it was a different scenario for Van Persie who came on with 20 minutes remaining and was booed by the 1500 supporters who had made the trip to Germany.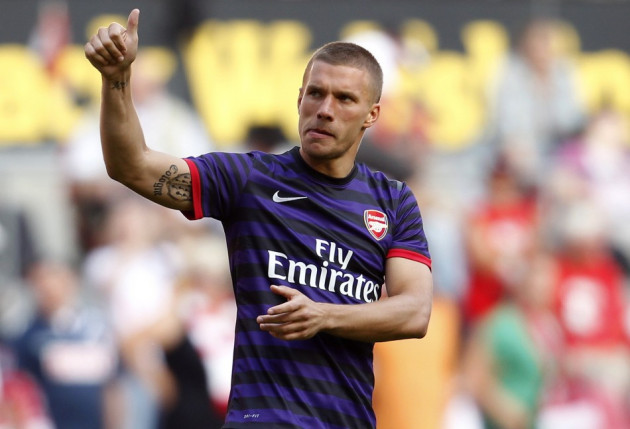 "There's no news on Van Persie. Our fans want him to stay so you can understand they are excited," explained Gunners boss Arsene Wenger, who was quoted in The Sun. "Anything I could say about Van Persie would be a lie because he's our player and that's it.
"Robin scored 30 goals last season and you want to keep your best player. He was player of the year in England. We want to keep him. I cannot tell you more at the moment because I don't know more."
The future of the Holland international is still uncertain but Arsenal fans will have been pleased to see the performance of Podolski.
The 27-year-old converted from the penalty spot after Thomas Vermalen had opened the scoring, before linking well with Kieran Gibbs to fire the ball past a helpless Timo Horn in goal for Cologne.
Gervinho rounded off the scoring but it was Podolski who caught the eye and he admitted after the game that he was surprised to hear the Arsenal fans signing his name.
"You see after the game that [the Cologne fans] still love me! I was very surprised about the Arsenal fans because there were a lot in the stadium. I heard them cry my name and I was very surprised!" Podolski told the club's official website.
"We have been having two sessions a day, now it is back to London, a day off and then we can start to concentrate on the game against Sunderland."