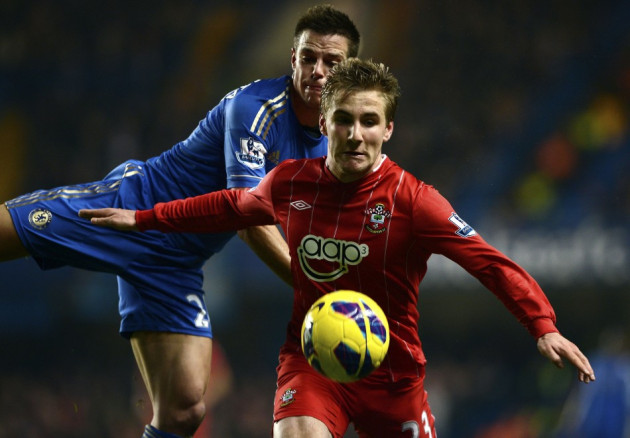 Reported Manchester United and Chelsea target Luke Shaw will dismiss speculation regarding his future by signing a new long term deal with Southampton, reports suggest.
The 17-year-old is the latest teenager to establish himself in the Saints first team despite his tender years, following in the footsteps of Theo Walcott, Gareth Bale and Alex Oxlade-Chamberlain.
But unlike the trio, Shaw is unlikely to leave the club after just his first full season with the first team, according to the Southern Daily Echo, and will sign a new five year deal with the club after his 18th birthday on Friday.
Identified as one of the brightest young domestic talents in the Premier League, Shaw's assured performances at full back in Southampton's return season to the top flight quickly saw the teenager linked with moves away from the south coast.
Moves to both Manchester United and Chelsea where he could potentially be prepared as the long term replacement for Patrice Evra or Ashley Cole respectively have been touted, a move that would have ominous parallels to previous departures from the club.
But Shaw, who was called up to the England U21 squad for the European Championships this summer before pulling out through injury, would appear to be ready to commit his future to Mauricio Pochettino's side.
Southampton have long seen their brightest young talents plucked from them after the briefest of spells in the first team. Theo Walcott enjoyed half a season with the club before Arsenal called in 2006, returning in 2011 for Oxlade-Chamberlain's services after the he emerged as one of the stars of Southampton's League 1 campaign.
Tottenham themselves got involved on the scene in between those, fending off interest from Manchester United to sign Bale at the start of the 2006/07 season.
But Southampton's renewed ambition is likely to help convince Shaw that his best option is to remain at St Mary's. After consolidating their Premier League status last season, the club have already signed £8m defender Dejan Lovren, an arrival that could be soon followed by Celtic powerhouse Victor Wanyama.