Four years ago, then Liverpool goalkeeper Charles Itanje was suspended for 14 days after inappropriate behaviour during the Hillsborough 20th anniversary service at Anfield.
Already a back-up for No.1 Pepe Reina, Itanje, who later apologised for his actions, was sent out on loan to Kavala the following season, and subsequently sold to Atromitos, never playing for the club again.
The setting, rather than the seriousness of the offence coupled with his peripheral role, saw the Frenchman vilified among Reds supporters and his swift exit was deemed an appropriate sanction.
But Liverpool, now under a new regime, have since found finding a punishment that fits the crime a somewhat tougher ask.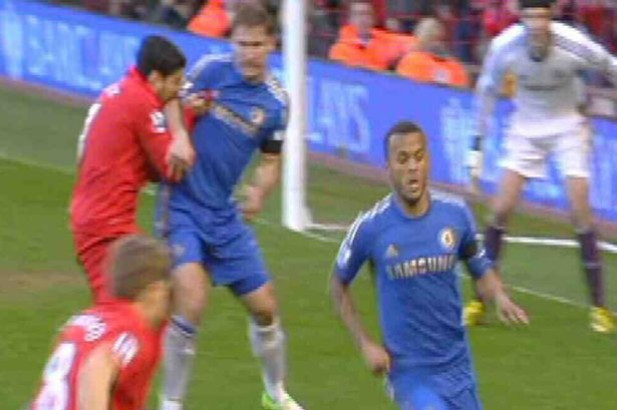 After being found guilty by The Football Association of racially abusing Manchester United's Patrice Evra, Liverpool sought to question the eight-match ban and £40,000 fine handed to Luis Suarez and publicly as well as privately backed their player.
Duncan Ferguson and John Terry might tell you otherwise, but football has regularly sat above the law, but for a club with a history for possessing a strong working class fan base, Liverpool's decision not to take strong action against their employee struck an emotive chime.
Their continued public support through online statements and t-shirt campaigns left a sour taste and undermined the club's stance against racism. Professional Footballers' Association chief-executive Gordon Taylor moved to make racist abuse a legitimate sacking offence, but still Liverpool refrained from taking such a necessary measure.
When next faced with Evra at Old Trafford, despite having told the Liverpool hierarchy otherwise, Suarez refused to shake the hand of the French defender. The defence of then manager Kenny Dalglish in the aftermath was sordid, and led to rapid apologetic statements from all corners of Anfield. The offence went seemingly unpunished.
New boss Brendan Rodgers has since dealt inadequately with accusations against Suarez of both diving and cheating, but the Northern Irishman faces the toughest task of his unwavering defence of his premier marksman, after the Uruguayan appeared to bite Chelsea's Branislav Ivanovic during Sunday's 2-2 draw.
You wonder whether an act of such animalistic and brutish instinct will finally be the tipping point for one of world sport's finest institutions. Dragged through the mud, by much of their own doing it must be remembered, during the Evra case, disgraced by his refusal to shake the United player's hand in February 2012; Liverpool's name is taking another battering thanks to their £22.8m striker.
Suarez is a repeat offender in both senses of the word. Racist abuse, misconduct, diving and cheating aside, the 26 year old was banned for seven matches for biting PSV Eindhoven's Otman Bakkal while playing for Ajax. Regardless of their motivation just two months later for selling Suarez, the player has clearly received insufficient therapeutic assistance after the incident.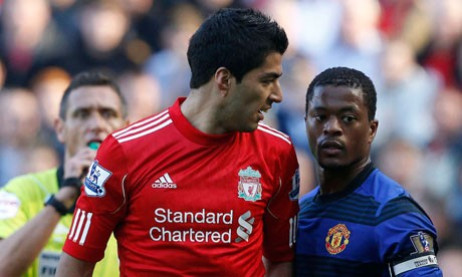 The PFA alongside Liverpool will seek to put Suarez through a rehabilitation programme, but Fenway Sports Group will surely be questioning how much further strain their world-renowned asset can take.
Liverpool's £150m record kit deal with American firm Warrior worked to cement football's existence within a world which relies on sponsorship and corporate relationships. Such deals and therefore financial stability hinge on public perception; a perception that despite the club's swift and clinical PR operation over the last 24 hours is on the precipice of ruin.
In isolation, Liverpool have to be seen to be part of the solution. Dismissing Suarez would be foolhardy, counterproductive and disruptive, not least to Rodgers' hope of reaffirming the club's status among English football's elite; a trivial matter in all.
But regrettably, we're not discussing a random episode from a player with an impeccable disciplinary record, it relates to one whose chargesheet will soon require dividers.
As we stand, Liverpool have fined Suarez for the incident and claim he will not leave the club in the near future, pledging to work with the player in question. The money will go to the Hillsborough Families Support Group. Merseyside police will not act, while The Football Association's much criticised retrospective action ruling has ruled Suarez out for the remainder of the season.
However, as Manchester United did with Eric Cantona, and Ajax did with Suarez themselves, Liverpool should be seen to show a no-nonsense approach regardless of the undoubted talent of the Premier League's top scorer. To show that the importance of honour and status sits above points and prizes would be a real shot in the arm for critics of football's greedy guise.
If Suarez's act was of a childish disposition, then Liverpool are threatening to turn Anfield into a play-pen if they continue to entertain and indulge their hottest property. The reality might remain that sport's greatest winners are ruthless and cold blooded and Liverpool's ambitions of returning to their lofty heights rest on possessing those characteristics once again. But at what cost.
Retaining Suarez amid a guilty charge for racial abuse has already compromised Liverpool's position of integrity and a series of subsequent oversights has come back to bite them. They have a much craved opportunity to set the record straight.