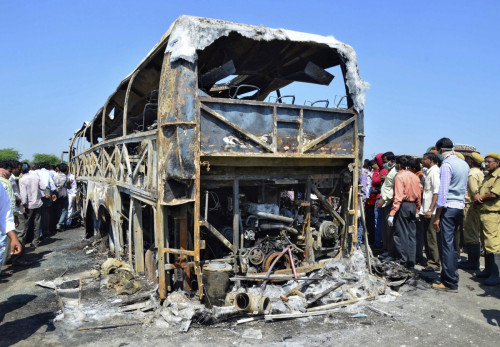 At least eight people have been burned to death after a bus caught fire on a highway in western India following a collision with a diesel-carrying vehicle.
The incident took place on the Mumbai-Ahmedabad highway in the state of Maharashtra a little after midnight. The privately-operated luxury bus was travelling from Pune to Ahmedabad in Gujarat.
More than a dozen others have been injured in the collision.
"The mishap occurred at around 1.30am at Kude village, about 10km from Manor" an official told the Indian daily Hindustan Times.
"Ten of the injured passengers are being treated at Manor rural hospital while one has been moved to Thane. Those who were injured have sustained medium to minor injuries."
The dead bodies could not be identified as they are charred beyond recognition. The corpses have been sent for autopsy while the investigators continue to verify the passengers' list.
Details of the other vehicle involved in the collision remain sketchy.
Traffic has been affected on the highway for several hours owing to the incident.
Road accidents are not uncommon in India, due to the poor maintenance of the vehicles, roads and reckless driving. According to government statistics, nearly 138,000 people have been killed in 490,000 road accidents in 2012.