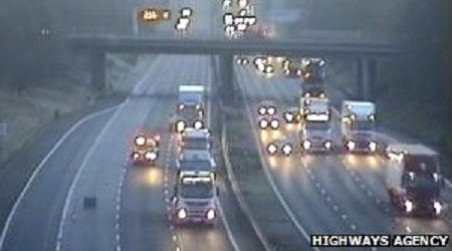 One person has been killed and two others sustained life-threatening injuries in a multi-vehicle smash on the busy M6 motorway.
The pile-up happened near junction 16 outside Stoke-on-Trent in Staffordshire. Traffic was held up for hours after the fatal crash.
The two seriously injured victims were in the same vehicle as the person who died. They were airlifted to hospital.
Two lorries, five cars and two vans were involved in the incident. Five people were pulled from the wreckage by emergency rescue teams.
"The crews were engaged in extricating five casualties who were trapped," a spokesman said.
"The officer at the scene summarised that a total of 15 persons and nine vehicles were involved in the collision.
"Five persons were released from vehicles by the Fire and Rescue Service and all casualties were transported to hospitals in Leighton, Crewe and Stoke by the ambulance service.
"One person was confirmed dead."
A Highways Agency spokesman said: "Staff at the Highways Agency's regional control centre at Newton-le-Willows in Merseyside have set signs across the local motorway network to advise drivers of the motorway closure.
"The Highways Agency's National Traffic Operations Centre in Birmingham has also set electronic signs advising long-distance drivers travelling out of Scotland and through Cumbria, Lancashire and Greater Manchester of the closure so they can take alternative routes south, including the M1."