Hen Party Horror as Woman Dies in M62 Minibus Collision
One dead and 17 injured in crash on junction 32 of motorway outside Pontefract, West Yorkshire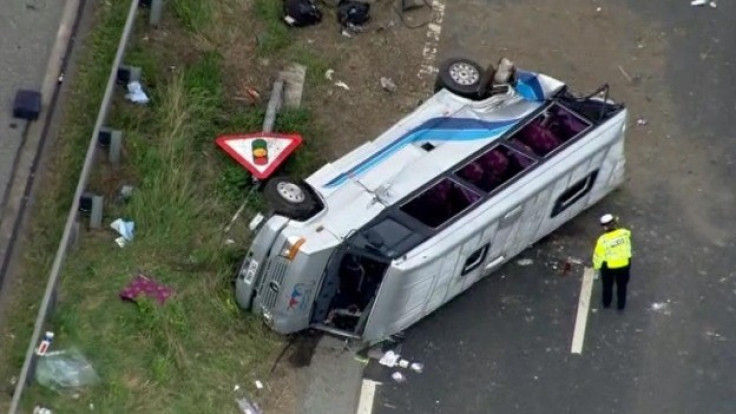 A woman has died and several more have been injured in a crash between a lorry and a minibus carrying a hen party on the M62 near Pontefract, West Yorkshire.
Emergency services were called to the westbound carriageway near the Xscape leisure park.
It is believed a further 17 people were injured in the crash, six seriously. West Yorkshire Police said the driver of the lorry had been arrested.
Firefighters described the crash as "the worst they had seen in a number of years".
The women in the minibus were reported to be travelling to a hen party in Liverpool from South Elmsall near Wakefield.
Assistant chief fire officer Dave Walton said: "The crews described to me a very difficult scene, some of them saying it was the worst they'd seen in a number of years - and some very experienced fire officers have been attending this scene.
"They very quickly got to work and brought in a range of equipment including cutting and lifting equipment to effect as quick a rescue as we could of those casualties who were still in the vehicle."
He said the injured had been taken to a number of hospitals including Pinderfields in Wakefield and Leeds General Infirmary.
Assistant Chief Constable Craig Guildford said: "This is a significant incident with a number of casualties and as a result of this we have had to close the motorway to allow emergency services to safely get to and free those who are injured.
"There will be significant delays."
"Emergency services remain on the scene and will reopen lanes of the M62 as soon as we can do so safely. Clearly the priority has been recovering those who are injured."
© Copyright IBTimes 2023. All rights reserved.