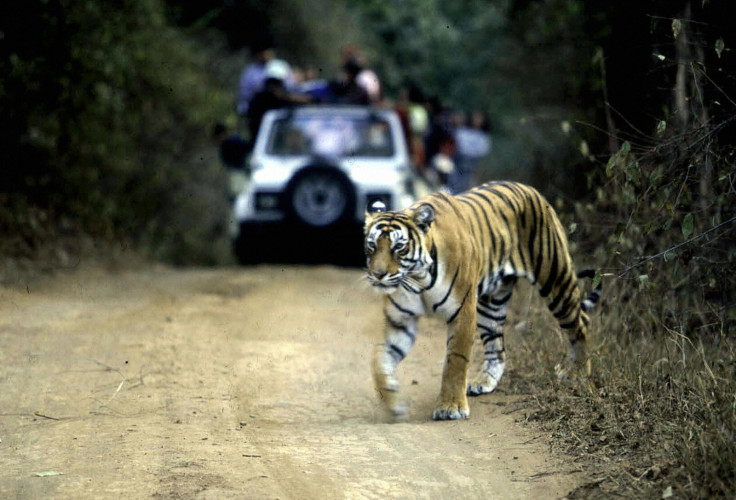 One of the most photographed tigresses in the world, Machli, died on Thursday (18 August) at Ranthambore, a national park in the northwestern Indian state of Rajasthan. She was 19 years old and was reportedly not eating anything for the last five days because of illness.

Her body was found around 9.50am local time in the morning on the border of the national park, near a densely forested area close to a luxury resort.
"The patch was immediately cordoned off and a team of Vets and top forest officials are being awaited for carrying out the necessary formalities. The carcass will also be sent for post-mortem after which a proper cremation will be carried out," Hemraj Meena, a guide and naturalist at Ranthambore for 22 years, said. He added that as Machli was like a family member her final rites would be done in a proper way.
Known as the Queen of the national park , Machli was also referred to as T 16.
According to a DNA report, T 16 was the oldest living tigress in the forest and mother of nine. She was named Machli by Colin Patrick Stafford-Johnson, a cinematographer who made five documentaries on her, as her face had marks that bear a resemblance to a fish.
"Her most famous and remembered wildlife encounter is the one where she not only fought but also killed a 14-foot long crocodile. She is a legend and will remain the undisputed queen of Ranthambore even if she is gone. In spite of being in her prime, even in this season, she was most sought after as a lot of tourists feel that unless they have seen Machli their journey to Ranthambore remains incomplete," a park guide said remembering her.
Many shutterbugs across the world have shared her beautiful photos on social media.
Over the last decade, Machli had attracted thousands of tourists around the world and had contributed more than $10m (£7.66m, € 8.83m) a year to the Ranthambore's economy, a Times of India report said.