As Mad Men bowed out for 2014 so did one of its most important characters, in a scene sure to prove divisive but adored by many.
Bert Cooper has always been an integral part of Matthew Weiner's drama without ever really having much to do. His character has been a constant presence as the boss of Sterling Cooper & Partners' various guises, dispensing wisdom as and when required.
His death was inevitable, but no one could have predicted the muted manner of his farewell. As the world watched Neil Armstrong make one small step onto the moon Bert too watched on, and as he heard Armstrong's famous quote he recognised the significance instantly, saying simply "Bravo" in return.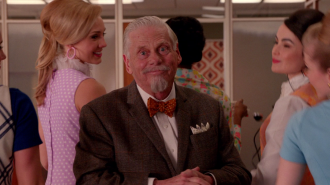 That was the last we saw of Bert alive, but his proper send-off came right at the end of the episode, when Don envisioned Bert singing "The Best Things In Life Are Free". Strange, yes, but beautifully poetic given actor Robert Morse's career as a song and dance man and the themes of the show.
"The moon belongs to everyone, The best things in life they're free, The stars belong to everyone, They cling there for you and for me."
Money may not buy happiness, but it's what SC&P's surviving partners (minus Harry who failed to become a partner in time to capitalise) now have in droves. It came as part of a power play instigated by Roger Sterling in a bid to save his company from Jim Cutler, and save Don's job in the process.
Early on in the episode Jim made a power play of his own, attempting to terminate Don's contract for barging into the Commander Cigarettes meeting two episodes prior. An enraged Don confronts Jim, who reveals himself to be the real villain of the piece. "You're just a bully and a drunk. A football player in a suit," he snipes.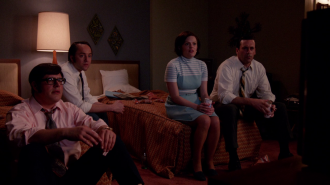 The old Don may have been just that, but the reformed Don is not. Since the crushing, alcoholic low of season six's finale Don has soared to millionaire status in less than a year. He pulled himself together, he "did the work" and he helped repair relationships with Peggy and daughter Sally.
Things are going so well for Don that even the end of his second marriage didn't faze him all that much. It had certainly been coming all season, but even so the end itself came from almost nowhere.
For the first time this season Don was opening up to Megan about his problems at work and said he could move back to California if fired. Megan's silence was telling, and it quickly became apparent that it was over.
It was a beautifully measured scene and a stark contrast to the messy end of Don's first marriage. In fact, it was one of the best scenes of the season, but will be overlooked in favour of the ending.
Don let his marriage finally slip away, but at least he had work to submerge himself in. Having initially beaten Jim by getting the partners to vote in his favour, the death of Bert made Don's position far less assured. Tasked with making the all-important pitch to Burger Chef, if Don were to be fired the professional relationship would be damaged from the off, so he tells Peggy to present instead.
This passing of the torch moment was a nice continuation of last week's touching dance scene. Peggy's pitch was perfect, using the good will of the previous night's successful moon landing to fuel her ideas of connection and family. Don did little more than introduce her, but he too got to make a pitch later on.
In their final conversation Bert had told Roger he was "not a leader of men", but Sterling seems determined to prove him wrong. His power play was to sell SC&P to McCann Erickson and in the process make each of the partner's millionaires.
As part of the deal Erickson want Ted on creative, but Ted also wants out of the business. They need him to make the deal happen, so Don pleads with a healthy dose of the same kind of truth that initially cost him his job. He spoke of his pain losing his job, and how he fought to get it back. Ted agreed to stay.
Shortly following that Don decides to get back to the work he dearly loves. As he does so Bert appears to him and tears fill Don's eyes. The best things in life are free, and though he may now be a millionaire – Don Draper's redemption isn't quite complete.