The search for missing Madeleine McCann was hampered by the involvement of competing UK police agencies, some of whom damaged relations with their Portuguese counterparts, according to an unpublished Home Office report.
Maddie disappeared from a holiday apartment in the Portuguese resort of Praia da Luz in May 2007. Her parents, Gerry and Kate, have made many appeals for information as to her whereabouts but to date there have been no substantial clues about who may have taken her.
The deeply embarrassing report, by former head of the Child Exploitation and Online Protection Centre (CEOP) Jim Gamble, was commissioned in 2009 by then- Home Secretary Alan Johnson and delivered in 2010. It was never released but details have now been leaked to Sky News.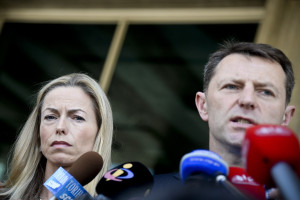 Gamble slams the Association of Chief Police Officers (ACPO) for putting the small, inadequately-resourced Leicestershire Police in charge of the investigation because the McCanns lived in the county.
He accuses the UK authorities of sometimes acting like a "colonial power" in the way they liaised with their Portuguese counterparts - the effect of which are still being felt.
While noting that the initial response of the Portuguese was "haphazard", Gamble adds that within a few weeks the local police were being briefed by CEOP, the Metropolitan Police, the Serious Organised Crime Agency and the National Police Improvement Agency.
"It was unhelpful," Gamble told Sky. "I've no doubt relationships from the outset with the Portuguese were impacted by it and I think that had a long term negative effect on the investigation and I think to this very day the Met investigation team that's engaged now are still having to manage and massage that relationship and perhaps to be fair to the Portuguese, mend some fences that were trodden on in the early days."
At the same time, said Gamble, No 10, the Home Office and Foreign Office ministers were making requests to departments for information and Crimestoppers set up an appeal hotline. This, said Gamble, led to "a sense of chaos and a sense of competition, people putting their hand up and wanting to help and in many instances in my opinion wanting to be seen to help."
The report, which the Home Office declined to publish under Freedom of Information laws, led to the re-opening of the investigation by the Metropolitan Police in 2010. One of Gamble's recommendations - a national centre for missing children - has not been followed up, which means if the same thing happened now the response would probably not be any more co-ordinated than when Maddie vanished.