"This city survived the war of 1812, the Civil War and God knows how many hurricanes, but when Lincoln Clay went after the mob, he inflicted more damage than all the wars and hurricanes combined."
From the off, Mafia 3 makes it very clear it's a story-driven game as much as it's an open world game about action and violence. It opens with style; juxtaposing a tourist ad for the fictional American Deep South city of New Bordeaux with stories of one man's vengeful, devastating war against the Italian mob.
At an event held ahead of the game's launch today (7 October), IBTimes UK played through the first few hours of Hangar 13's Mafia 3, playing out the story's opening act, getting to know the New Bordeaux setting and finding out how well it all plays. Our review will follow in due course, but based on what we've seen so far, we can say Mafia 3 has everything it needs to be something special.
The lengthy opening stretch of Mafia introduces each of its key elements, jumping between present day interviews, a 1972 senate hearing and early 1968, where we see special forces soldier Clay return home after a stint in Vietnam.
When he does, he's reunited with his brother Ellis and father figure Sammy Robinson, head of the black mob of New Bordeaux. Before long he learns of trouble with a local Haitian gang, and not long after that he's hitting a federal reserve in a daring heist potentially worth millions of dollars. After he and the black mob are betrayed and left for dead, Clay seeks sets out on a mission of revenge.
It's a very authored opening, and that initially restricts the freedom you'd expect of an open world game. It's so well authored however, that any sense of restriction barely registers. The story is stylishly told with good acting and animation bringing to life some top-notch writing, and the player is introduced to each element of the gameplay organically without it feeling tutorialised.
Lincoln Clay is – as he should be – loaded with potential to become a memorable protagonist. He walks with a chip on his shoulder and speaks with the no-nonsense power you'd expect of his enormous frame. He's loyal to his adopted family – the family he never had growing up – so when that eventual betrayal comes, Lincoln's rage is understandable and justified.
His subsequent actions aren't so justifiable, but Mafia changes tack from crime drama to revenge thriller well and the tone it evokes is reflected in the brutality of the action. As a six-foot-four former special forces soldier, Clay moves with purpose and disposes of criminal scum with no second thoughts.
---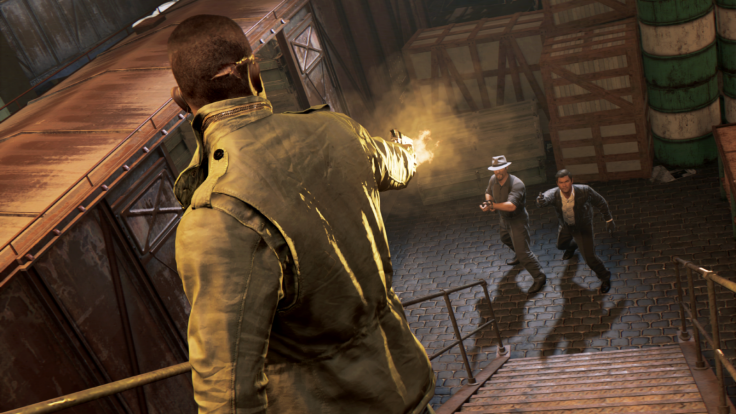 The option is there to go through the game without leaving too bloody a trail, with a stealth option for most encounters. As Clay sets out to take down the existing criminal empire and create his own, he must take down the rackets operating in regions of New Bordeaux. This is done in stages. So when we took down a prostitution racket we first freed some of the women being held against their will and took out their pimps to p**s off and draw out the boss. Each of these three stages takes place in buildings that can be approached with stealth, all out action or a mix of both, through any entrance the player can find.
It's open without being binary or clear cut, but the developers clearly favour the violent option as non-lethal takedowns have to be switched on in the options menu. Until you switch (if you even want to) Clay will stab and slash his way through criminals even if you approach quietly.
In the run-up to the game's pivotal betrayal, Mafia 3 introduces a handful of characters that will return later as lieutenants of Clay's fledgling empire. As the game progresses, players will have to balance the needs of these potentially volatile figures, and hope to strike a good relationship that reaps rewards. One of these lieutenants, Cassandra, will be able to send out a van full of weapons and ammo to Clay wherever he might be. We only glimpsed how this system will work, but it seems rooted in the idea of turning Mafia 3's open world into more than just a backdrop, while also building relationships between central characters that will – we hope – have a payoff.
After the opening few hours came to its conclusion, we were given free rein to explore New Bordeaux. Hangar 13 has created a city every bit as unique in the gaming landscape as its New Orleans-inspiration would suggest. This is a vibrant city, of many distinct districts that treat the player differently because of the colour of Lincoln's skin. Police may ignore crime in the largely black Delray Hollow, but may hound Lincoln in richer areas. NPC citizens here will even call the police on Lincoln if he hasn't done anything.
The game begins with a disclaimer about the use of racist language in the game, rightly saying it is used to accurately depict the time and setting. Indeed, race and racial tension was ever-present in our time with the game, but it was handled deftly without the kind of us versus them mentality that would have over-simplified something that in 1968 was deeply embedded in everyday life.
Mafia 3 gets off to a fantastic start laden with the style of all the marketing material we've seen to date. Confident and assured, Hangar 13's crime epic sets itself up to be something special with its first few hours, but how well it carries that over the course of many more remains to be seen.
Mafia 3 is out now on PS4, Xbox One and PC.
For all the latest video game news follow us on Twitter @IBTGamesUK