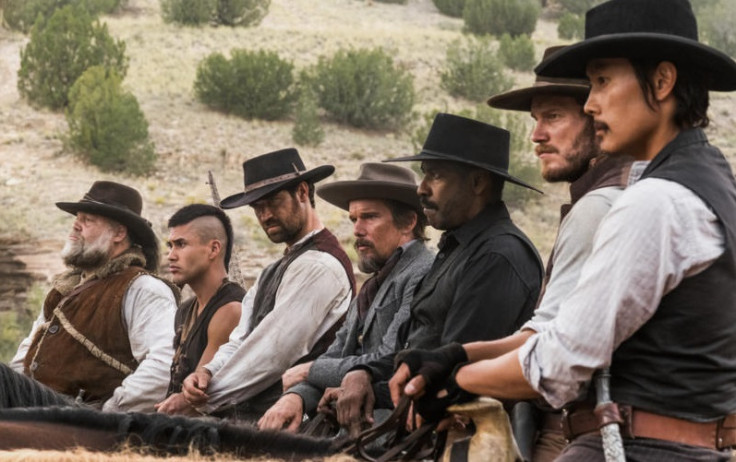 Having already tackled the genres of crime thriller and sport-based drama over the last couple of years, director Antoine Fuqua once again attempts to prove his versatility with western The Magnificent Seven. Based on the 1960s John Sturges' movie starring Steve McQueen and the Japanese-language film Seven Samurai before that, the remake brings together Ethan Hawke, Chris Pratt, Denzel Washington and more as the titular group of un-merry men.
Things ain't easy living in the Old West. But when your mining town is dictated by a capitalist tyrant, who's not afraid to get his hands dirty... or more accurately bloody... just to make a few extra 'bits', times can be particularly rough.
Unfortunately, this is the situation the poor residents of Rose Creek find themselves in, as industrialist Bartholomew Bogue (Peter Sarsgaard) threatens to foreclose all of their homes unless they pay him a certain amount of money in a few weeks' time. The ruthless man doesn't stop there either, burning down their beloved church as a way of proving he doesn't give a damn and will literally shoot anyone down who stands in his way.
Desperate Emma Cullen (Haley Bennett) and a few other locals seek out the help of bounty hunter Sam Chisolm (Denzel Washington) who agrees to protect them against Bogue for his own personal reasons. Realising they won't take the rich man and his armies down alone, Chisolm sets out to recruit a group of men including sharpshooting old friend Goodnight Robicheaux (Ethan Hawke), an unruffled gambler, a tracker, an assassin, an outlaw and a mysterious Comanche warrior.
Our verdict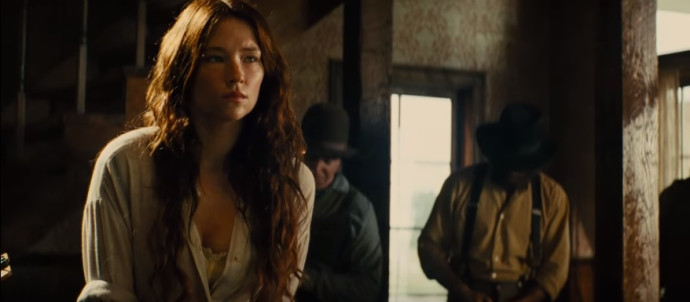 More than ever, remakes and reboots are somewhat of a sticking point for cinema-goers, who are growing tired of Hollywood recycling movies rather than creating original ones. However, if a reboot builds upon the original, is it not worth doing?
With that in mind, it's interesting that The Magnificent Seven's 'lack' of fresh material is being used to deride it so much in recent reviews. Older films of this genre had their exciting moments but most of the time they concentrated much more on fleshed out, slow-burning characters. Antoine Fuqua manages to include those aspects while also delivering action-packed fun throughout, culminating in a brilliantly staged show-down that will leave you feeling thrilled.
That's not to say that the film is without its frustrating moments – most notably how often Emma Cullen (Bennet) is sidelined to a damsel-in-distress role rather than a hero in her own right (which she evidently has the ability to be). However, this is perhaps more indicative of the era in which the movie is set rather than the script itself and for that it's forgivable. Less forgivable are moments such as the gratuitous shot of Bennett during the opening scene which should have focused more on emotion than cleavage, and the fact that she's pretty much the only female character that ever says a word on screen.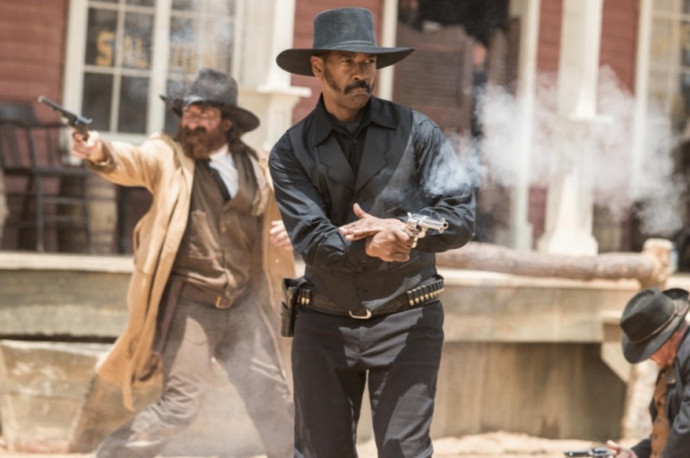 As with most traditional westerns, despite a woeful lack of well-rounded female characters there are plenty of male ones to grab your attention and writers Richard Wenk and Nic Pizzolatto have been masterful here, leaving you undecided about who's your favourite.
Supporting performers Vincent D'Onofrio and Lee Byung-hun are brilliant as 'bear-in-people's clothes'-turned-comic relief Jack Horne and Robicheaux's attentive right-hand man Billy Rocks respectively, but as expected, main players Washington and Chris Pratt steal the show. However, Hawke gives them both a run for their money with his much more emotional Robicheaux.
It's not just those playing the heroes that shine either. Being a dab-hand at playing slimy, villainous guys you love to hate, Sarsgaard offers up a brilliant performance in Bogue; undoubtedly his most despicable baddie yet. Hamming it up slightly (but in a good way), his camp theatricality is the perfect antithesis to Washington's calm and collected Chisolm – and everyone knows that a great western is based on polarity... It's called The Good, The Bad And The Ugly for good reason.
While it's not all that memorable, The Magnificent Seven delivers enjoyable, popcorn entertainment. Despite minor flaws, Fuqua knows that the movie's strengths lie with his charismatic cast and he uses that to his advantage whenever he can. With a decent script and stellar performances all round, it doesn't quite achieve the level of magnificence of the original but it certainly does the job and doesn't ever try to be anything more than it is.
For more entertainment news follow A-List on Twitter @Alistinsider