A new Fox News poll has revealed a high level of discontent with US President Donald Trump.
The poll released on Wednesday (30 August) found that 56% of respondents think Trump is "tearing the country apart," compared to 33% who think he is "drawing the country together."
Trump's job ratings are particularly negative among Democrats and independents. The poll found that nearly all Democrats (93%) and more than half of independents (59%) feel he is tearing the country apart.
Only 15% of Republicans feel that way, while 68% say he is drawing the country together.
Trump's job approval ratings continue to decline. A "record" 55% of voters disapprove of the job he is doing as president and only 41% approve. Fox News reported the results were the worst "score to-date" in their polls.
The president has lost the most ground with conservatives (-7 points), Republican men (-9 points) and white people without a college degree (-9 points), the poll found.
Fox News reported that the number of voters that are happy with how things are going in the country has dropped 10 points since April and now stands at 35%. Meanwhile, dissatisfaction has jumped 11 points to 64%.
According to the poll, dissatisfaction with how things are going is not tied to the economy as often is the case. Positive views on the economy are the highest they have been in more than a decade.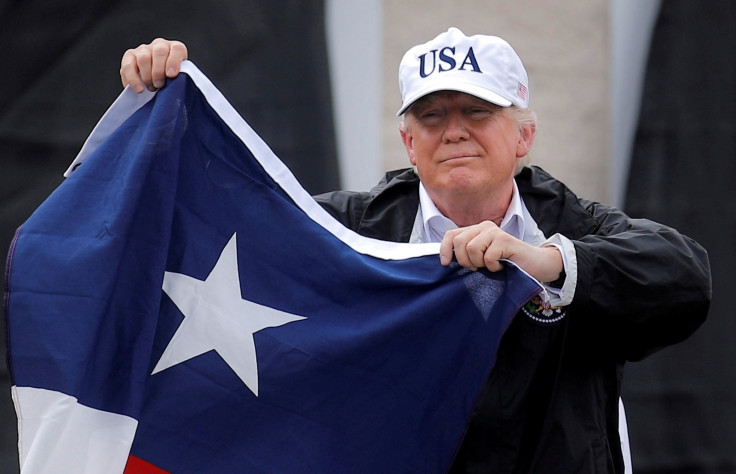 The poll found that 36% of respondents view the economy as either "excellent" (6%) or "good" (30%). The economy has not rated that highly since August 2004.
Trump received his best job ratings when it comes to the economy (49% to 43%), terrorism (47% to 45%) and Hurricane Harvey (44% to 26%). Fox News noted that the poll was conducted prior to his visit to Texas.
The president received his worst job ratings on race relations (33% to 61%), healthcare (34% to 60%), Russia (35% to 56%), the environment (36% to 56%), taxes (37% to 45%), North Korea (43% to 50%) and immigration (43% to 54%).
The poll also found that nearly as many people say the media (40%) poses a greater threat to the US as say white supremacist (47%). Trump supporters are more likely to call the media a bigger threat at 75%, than Hillary supporters who say white supremacists at 80%.
Fox News polled 1,006 registered voters nation wide from 27 to 29 August. The poll has a margin of error of +/- 3%.