A new dating site for supporters of Donald Trump will only let you sign up if you're straight - but "happily married" people looking for love are welcome.
Anyone who tries to sign up at Trump.dating is first met with a simple drop-down option asking if you are a straight man or a straight woman, the only two options. In step two of three in the sign-up process, Trump Dating asks for your relationship status, which includes the options "have a significant other," "have an open relationship," and happily or unhappily married. Trump allegedly had an affair with adult film star Stormy Daniels in 2006, shortly after wife Melania gave birth.
Trump Dating admits that dating in 2018 is difficult due to a polarising political landscape, and seeks to avoid messages like "no Trump supporters" or "proud liberal" often seen on other dating sites.
The website, set up by Friends Worldwide Inc, states: "We're wrecking the dating game and giving like-minded Americans a chance to meet without the awkwardness that comes with the first conversation about politics. Wouldn't it be refreshing to already know that your date roots for the same team?
"We believe that by matching patriotic and political viewpoints as a base foundation of the relationship, it will allow one to focus on what really matters -- conversation, commonalities, and if all goes well, courting. Being with someone who shares the same core standards is absolutely essential if you're truly searching for a real, life-changing relationship."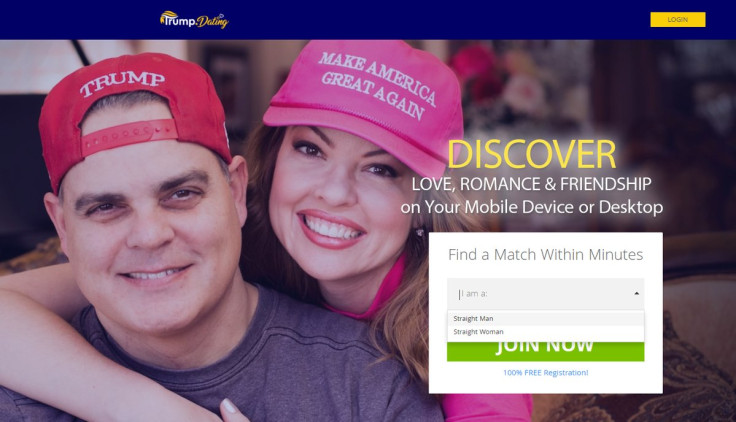 The website has attracted controversy after its launch as people realised it only accepts straight people. One user called it "OkStupid".
Others mocked the site after working out that the usernames "whitepower" "hitler" and "putin" have been claimed, as the website says "username is in use. Try another" if you use them to sign up. Other usernames in use include magaforever1 and DaddyTrumpsGirl.
One user with the name "Gayintruder555" wrote "hello fellow straights please tell me this is a joke" in his profile.
Another dating site for Trump supporters, Trump Singles, launched in 2016 but was back in the public eye this week thanks to its new rival. In a tweet slamming the new site as a "knock off", they said: "Trump dating site is "now a thing"? It's been a thing for two years." Trump Singles appears to allow users to say they are a male looking for a male, or female looking for a female, unlike Trump Dating.
Both sites use the slogan "making dating great again", although one Twitter user suggested "make America date again" would be even better.