Malala Yousafzai, Richard Branson and dozen others urge UNSC to end 'ethnic cleansing' in Myanmar
In a letter, they told Myanmar government to lift all restrictions that are placed on humanitarian aid to Rakhine State.
Over a dozen Nobel laureates have written to the UN Security Council on Thursday (29 December) decrying persecution of Rohingya Muslims in Myanmar's restive Rakhine State. Malala Yousafzai and Archbishop Desmond Tutu were among 11 other fellow Nobel Prize winners who have urged the council to end "ethnic cleansing" and crimes against humanity that they say is "unfolding" in the troubled region.
Clashes have been continuing on and off in the region, especially since 9 October, when a police post was attacked near the border with Bangladesh by the ethnic armed men, killing nine security officers. The Myanmar government, in response, launched a military crackdown in the state, reportedly resulting in at least 86 deaths.
In an open letter to the council, the Nobel laureates along with several other international figures said, the ethnic violence in Rakhine had the hallmarks of recent past tragedies, including Rwanda's 1994 genocide, as well as ethnic cleansing in Bosnia, Kosovo and Sudan's western Darfur region.
The signatories to the letter include business leader and philanthropist, Sir Richard Branson, BAFTA award winner and British film director, Richard Curtis, among 21 others.
They said a "human tragedy amounting to ethnic cleansing and crimes against humanity is unfolding in Myanmar ... If we fail to take action, people may starve to death if they are not killed with bullets, and we may end up being the passive observers of crimes against humanity which will lead us once again to wring our hands belatedly and say "never again" all over again."
They accused the Myanmar army's response as "grossly disproportionate" for the 9 October attack even if it was true that a group of Rohingyas was behind it.
"It would be one thing to round up suspects, interrogate them and put them on trial. It is quite another to unleash helicopter gunships on thousands of ordinary civilians and to rape women and throw babies into a fire," the letter read.
Aung San Suu Kyi's Myanmar government has denied accusation of deploying excessive military force to respond to 9 October attack. She has received severe international criticism that her government has done too little to help the Rohingya Muslims in the Buddhist-dominated country. The ethnic minorities complain of being denied Myanmar citizenship.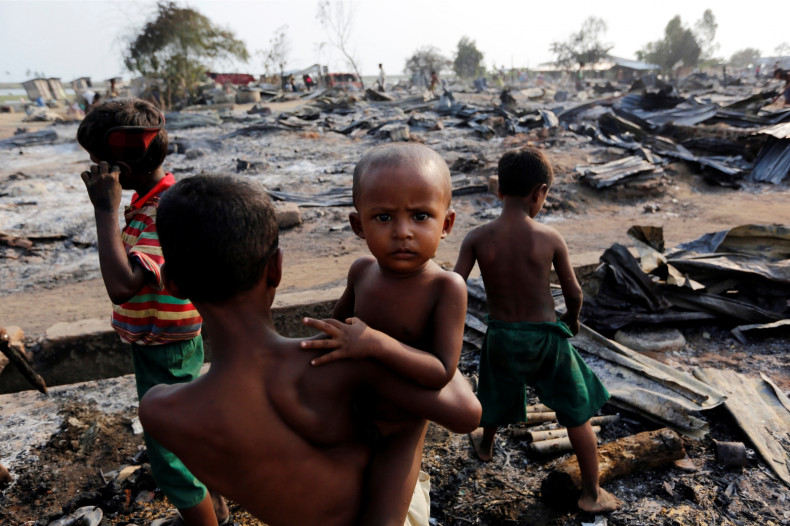 The letter also called for the country to lift all restrictions that are placed on humanitarian aid to Rakhine State.
Reuters reported that the letter was initiated by José Ramos-Horta, 1996 Nobel Peace Laureate and Professor Muhammad Yunus, who was awarded the prize in 2006 and helped revolutionise finance for the poorest in Bangladesh.
A spokeswoman for the presidency of the 15-member Security Council confirmed receiving the letter.