Nobel peace laureate Malala Yousafzai has published a children's picture book. Malala, who was shot in the head by Taliban militants in Pakistan aged 15 because she defied local rules to campaign for girls' education, said she wants to teach children about her journey and the importance of learning.
The attempted murder in 2012 attracted international attention and led to Malala and her family moving to Birmingham in the UK, where the teenager received specialist treatment for her severe injuries. Malala survived the failed assassination and became an international symbol of the fight to promote women's empowerment across the world.
"Malala's Magic Pencil" is published on 17 October. "Through this picture book I want to inspire younger children to believe in themselves and to recognise that their voices can make a difference," she said ahead of the book launch.
Malala, who started an undergraduate course in politics at the University of Oxford in 2017, is already an accomplished author. Together with Sunday Times foreign correspondent Christina Lamb, she wrote "I am Malala", a book about the day she was shot and the aftermath.
In 2014, Malala became the youngest person to be awarded the Nobel Peace Prize for her advocacy work. Three years later, she also became the the youngest ever UN Messenger of Peace.
Malala's Magic Pencil - Book description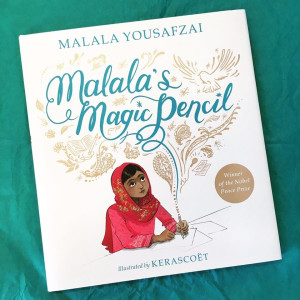 As a child in Pakistan, Malala made a wish for a magic pencil that she could use to redraw reality. She would use it to give gifts to her family, to erase the smell from the rubbish dump near her house, to sleep an extra hour in the morning.
As she grew older, Malala wished for bigger and bigger things. She saw a world that needed fixing. And even if she never found a magic pencil, Malala realized that she could still work hard every day to make her wishes come true.
This beautifully illustrated picture book tells Malala's story, in her own words, for a younger audience and shows them the worldview that allowed her to hold on to hope and to make her voice heard even in the most difficult of times.