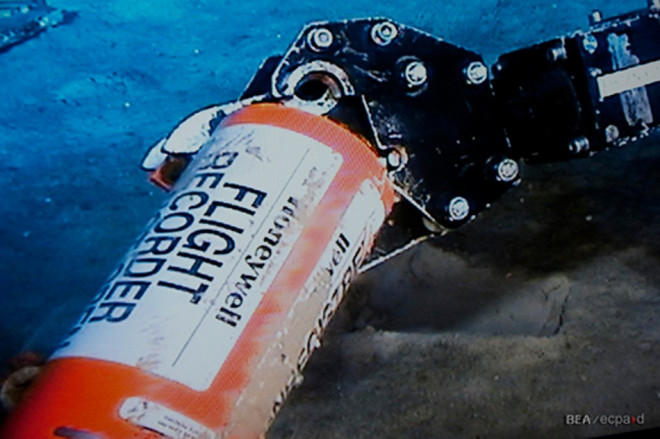 The continued hunt for missing Malaysian Airlines flight MH370 has prompted calls for black box data to be streamed in-flight and uploaded to the cloud to speed up the rescue and accident investigation process.
"This is the second accident in five years where we've had to wait to get the black boxes back. We need to bring the concept of operations for accident investigations and the technology of what is available up to the 21st century," Mark Rosenker, former chairman of the US National Transportation Safety Board, told Reuters.
Air France Flight 447 crashed into the Atlantic Ocean in 2009, killing all 228 people onboard. Although some major wreckage was removed from the sea within five days of the crash, it took another two years and €32m for the black boxes to be recovered from the ocean floor.
Outdated process
The black boxes that record crucial flight data must be retrieved to tell investigators exactly what happened in an accident. Rosenker said the process was "outdated".
It is also difficult to locate an aircraft in trouble if it is flying over a remote area that cannot be reached by ground-based radar systems.
Malaysian Airlines flight MH370 took off from Kuala Lumpur International Airport for Beijing with 239 people onboard at 00:41 local time on 8 March but lost contact with air traffic control 50 minutes later.
Searches made by 26 countries to find the aircraft over the last 12 days have proved fruitless, although the latest lead points to two large objects floating in the southern Indian ocean that were spotted by a satellite.
Tombstone mentality
While directly uploading black box data to the cloud could be a great help, many in the aerospace industry fear that it could become too expensive as older aircraft would need to be upgraded with new electronic equipment and a great deal of bandwidth would be required.
"There's a tombstone mentality at times. You actually have to have a very tragic event to get things done. I predict that this is one of those events," said Bob Benzon, a former US Air Force pilot and NTSB investigator. He said it would cost billions of dollars to fit out every single plane in the world with flight data real-time streaming capabilities.
"It would just be too costly. There are 93,000 flights a day, and we've had two incidents like this in four or five years," an industry executive said.
Inmarsat is a British satellite communications company that already provides internet capabilities to airplanes allowing voice and web surfing with speeds of 512Mbps. The company is also launching a satellite system in 2015 that will enable 50Mbps download speeds and allow for live video streaming.
"The ability to stream black box data directly from an aircraft via satellite to the ground exists now. Dependent upon the level of data being streamed and the frequency with which the data is transmitted from the aircraft, it is certainly possible to provide sufficient bandwidth through existing satellite networks," said an Inmarsat spokesperson.
"Services available today can stream this key data from an aircraft in a cost-effective manner."
Cheaper options
Most aircraft are fitted with the Aircraft Communications Addressing and Reporting System (Acars) which sends periodic reports on the airplane's engines via satellite or VHF radio. This method could possibly be refined to send more crucial flight data.
Another option would be to fit all commercial aircraft with floating locators and floating recorder beacons that would be deployed automatically in the event of a crash. This approach is already being used on some US military aircraft, such as the US Air Force Lockheed C-5 Galaxy military transport planes, which routinely fly over large expanses of open water.
Perhaps the best solution would be to upgrade radar systems so that they can stretch to remote locations.
Italian researchers have invented a radar system that makes use of higher mobile frequencies and software-defined signal generation to provide much higher precision radar tracking than traditional microwave-based digital radar systems.
The new system offers an ultra-wide bandwidth so even extremely high-frequency millimetre waves can be detected.
"Its performance exceeds state-of-the-art electronics at carrier frequencies above 2 gigahertz, and the detection of non-cooperating aeroplanes confirms the effectiveness and expected precision of the system," a paper published in Nature states.
FLIGHT MH370 FACTBOX
Flight MH370 took off from Kuala Lumpur International Airport en route to Beijing at 00:41 on Saturday 8 March (16:41 GMT Friday).
About 50 minutes later, the aircraft lost contact with air traffic control.
No distress call was made.
On board, there were 12 Malaysian crew members and 227 passengers from 14 countries. That included 153 Chinese and 38 Malaysians.
Two Iranian male passengers, Pouria Nour Mohammad Mahread and Delavar Syed Mohammad Reza, were travelling on fake passports. Neither had any apparent links to terrorist groups.
No debris from the plane has been found in the international search.
At least 10 countries, including China, the US and Singapore, were using a total of 42 ships and 39 aircraft to search for the missing plane in the South China Sea, the Malacca Strait and the Andaman Sea.