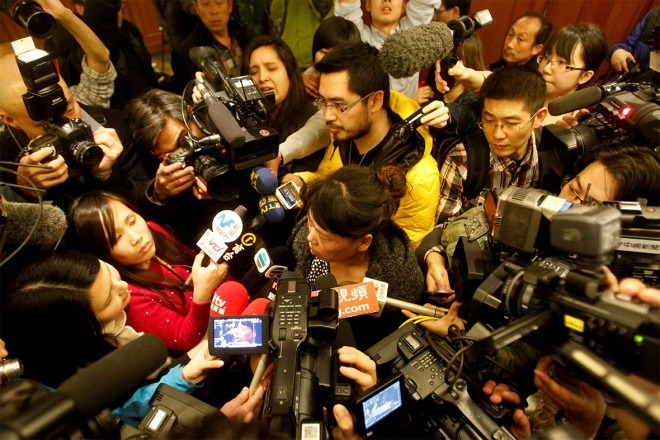 Chinese relatives of the missing flight MH370 passengers have been forced to move hotels to make way for the upcoming Malaysian grand prix.
Some relatives of those who were on the missing plane flew to Malaysia to be closer to the heart of the investigation.
Many had been staying at the Cyberview Resort & Spa near Kuala Lumpur during the prolonged search. Now, after nearly two weeks with no sign of the missing plane, these families have been told to move elsewhere to make way for the 30 March race.
"The Chinese families were here, but they have already left. We are fully booked. There is no space because of Formula One," a hotel spokesperson told Reuters.
Tension between the families and the Malaysian authorities has already escalated as the search continues for the MH370 flight, which went missing on 8 March about an hour after take-off from Kuala Lumpur towards Beijing, carrying 239 passengers and crew.
Many family members have reacted angrily to the apparent lack of information given to them during the search. Some have resorted to hurling water bottles at Malaysian officials and even threatening to go on hunger strike.
A search for debris in the south Indian Ocean has yet to report any sighting after two days. Satellite images showing what could potentially be objects from the plane were seen in waters south-west of western Australia.
Many foreign officials, investigators and journalists are also being forced out of their hotels to make way for the F1, which is one of the biggest sporting events on the Malaysian calendar.
Razlan Razali, chief executive of the Sepang International Circuit where the race and subsequent concert are held, previously confirmed the event will still go ahead, but at a more subdued tone out of respect.
"Whatever it is, Formula One will go on and the concert after that will proceed but we will be sensitive and not go overboard," he said.
"People are not in the mood for an event like this. Everywhere, be it on radio, newspaper, TV or social media, it is all about finding MH370."