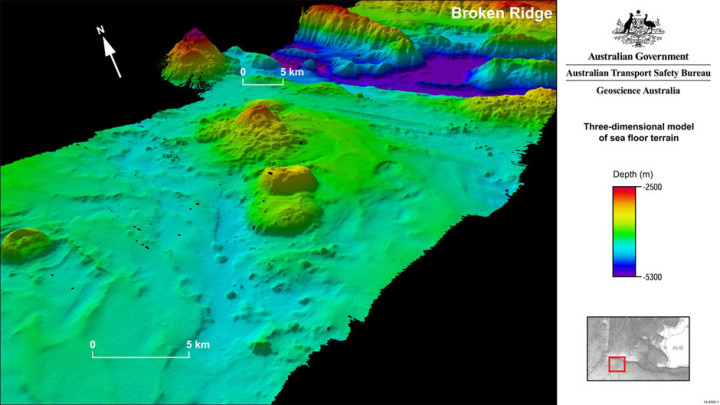 The search for missing Flight MH370 will begin next week with searchers using three-dimensional maps of the southern Indian Ocean floor.
According to the Telegraph, searchers are concentrating on a 350-nautical-mile-long area of the seafloor known as "the 7th arc." It's possible that MH370 ran out of fuel and crashed in this area.
Experts used pulses of sound, which are bounced off the sea bed, to uncover this previously uncharted undersea world.
The resulting 3D maps reveal mountain ranges, with some more than a mile high, trenches 1.4 km deep and what is believed to be a submarine volcano, bigger than Mount St. Helens.
The maps cover an area either side of a range known as Broken Ridge, around 1,770 km off the west coast of the Australian city of Perth.
Two specialist ships will start scanning the Indian Ocean where the plane disappeared with 239 people on board six months ago.
The Malaysian-contracted GO Phoenix vessel will search the newly defined area off the West Australian coast on Wednesday.
It will then be joined by the Fugro Discovery which arrives in Fremantle on Thursday.
The Fugro Equator, a survey vessel will join the search at the end of October, once it finishes its sea floor mapping work.
The analysis of satellite data from the plane led to the conclusion that the jet may have entered the water in an area south of what was initially considered the top priority search zone.
Australia's Transport Safety Bureau now believes the aircraft's possible location to further south in the Indian Ocean off the coast of Western Australia, according to Firstpost.
Transport safety investigators say the new search centres on waters up to 6.3 kilometres deep. Search teams had relied on Inmarsat satellite data exchanges along an arc of the Indian Ocean west of the state capital of Perth.
Hsin Chen Chung, head of the Singapore-based Air Traffic Management Research Institute at Nanyang Technological University, pointed to the need for a more comprehensive radar system across the Asia Pacific.
"The problem being highlighted due to the Malaysian 370 tragedy is the lack of complete surveillance and communication coverage. This is because the oceanic area and some rugged terrain prevented the full deployment of the ground-based radar surveillance system. So we have to find a way to develop total global or regional complete coverage," said Hsin.
A key shortcoming is that existing land-based radar coverage reaches no more than 400 kilometres to sea.
But he said setting up a regional satellite surveillance body is likely to face resistance from regional governments that may need to surrender control over air traffic management in such a region-wide system.