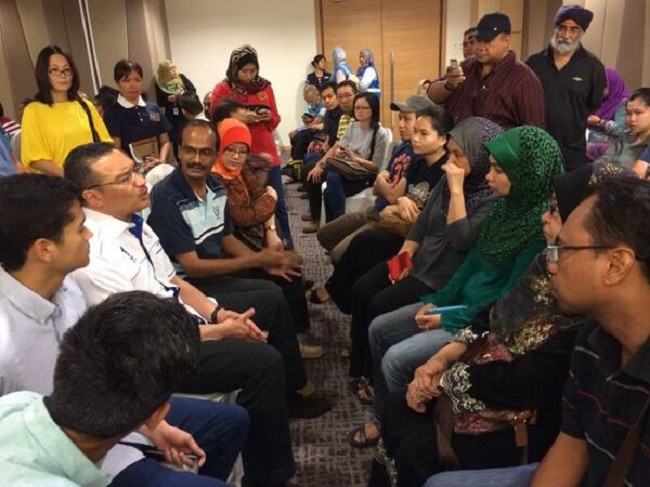 Malaysia's defence minister Hishammuddin Hussein has come under fire for everything that has gone wrong with the unprecedented hunt for the missing flight MH370.
But despite bearing the brunt of the world's media attention over his country's chaotic handling of the crisis, he continues to stand against adversity and give hope to grieving relatives.
"Even hoping against hope, no matter how remote, of course we are praying and we are continuing our search for possible survivors," the 52-year-old defence minister told a news conference on Saturday.
He was joined by his princess wife, Tengku Marsilla Tengku Abdullah, in consoling people, but the pain of carrying their desperation was beginning to show through.
Choking back the tears, he said: "For me as the minister responsible, this is the hardest part of my life, at the moment."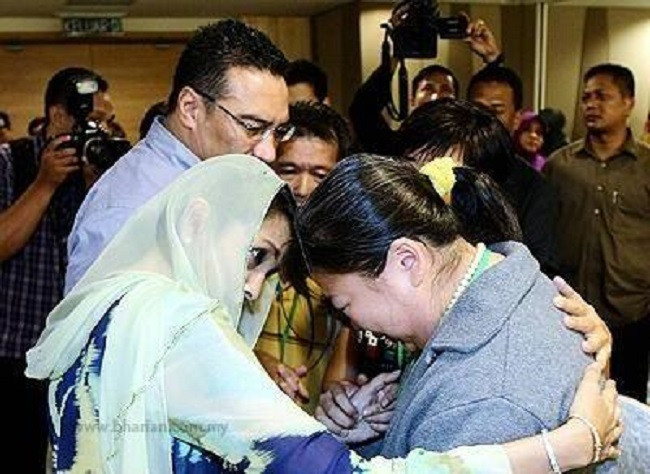 Since the Boeing 777 disappeared Hussein has been criticised for withholding "truth" from relatives and other discrepancies such as a lapse in airport security after two Iranians were found to have boarded the plane with stolen passports.
When once asked to defend his position and about accusations the plane search had been disorderly, he retorted: "It's only confusion if you want it to be seen to be confusion."
Another day he reprimanded a reporter and asked him to apologise for asking a similar question, saying: "I have got a lot of feedback saying we have been very responsible in our action. It's very irresponsible of you to say that."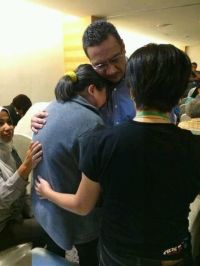 When further sightings of debris were made by a Chinese satellite - believed to be linked to the airliner - he bravely overcame any criticism by telling the news conference: "I've been accused of not informing the world about the information.
"This is coming to me as quick as you are seeing it on TV right now."
Hussein also announced that the police and FBI had found "nothing sinister" on the MH370 pilot's flight simulator. The simulator, which Captain Zaharie Ahmad Shah built himself, was seized from his home after the jet disappeared. The FBI examined the hard drive as part of an ongoing investigation into Shah and his family.
Despite his efforts, academics believe Hussein's political future and that of Malaysia's ruling party, United Malays National Organisation (UMNO), could be at stake over the mismanagement of the crisis.
Until MH370 disappeared he was seen as a potential contender to succeed his cousin, Prime Minister, Najib Razak as leader of the UMNO.
Bridget Welsh, a political scientist at Singapore Management University: said: "He is going to be hindered by the perception (of Malaysia's) handling of the crisis.
Those who see it negatively will associate it with Hishammuddin."
James Chin, a political science professor at Australia's Monash University, agreed that his career has taken "a step backward".
Born in 5 August 1961, Hussein attended an all-male boarding school founded for children of nobility. He gained a bachelor's degree from the University of Wales in 1984 and a master's from the London School of Economics in 1988 before returning home to practise law.
In 1995, he went into politics and won a seat in parliament. He ascended through government ranks to hold multiple cabinet positions. He served in the government of Malaysia as Minister of Home Affairs from 2009 to 2013 and Minister of Education from 2004 to 2009.
His father was Malaysia's third prime minister, Tun Hussen Onn, and he is the nephew of the country's second prime minister, Tun Abdul Razak. His grandfather, Onn bin Ja'afar, founded the UMNO, which has dominated Malaysian politics since independence from Britain in 1957.
Over the past three weeks he has repeatedly said that the MH370 crisis is "above politics".