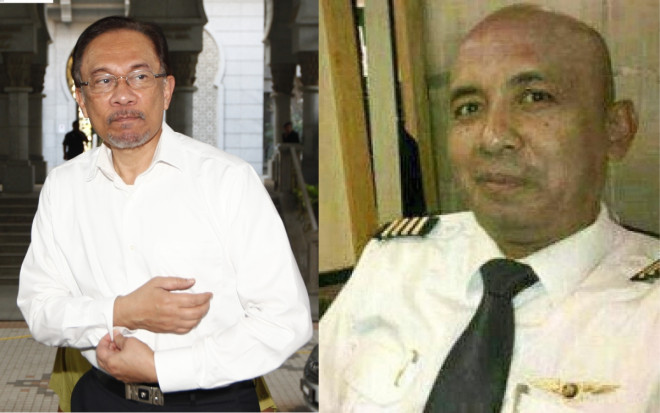 Opposition leader Anwar Ibrahim has accused the Malaysian government of deliberately hiding key information relating to the missing Malaysia Airlines flight MH370 which could help in solving the mystery of the plane's disappearance.
In an interview with the Telegraph, the opposition leader, a distant relative of MH370's pilot Zaharie Ahmad Shah, has said that Malaysia's military radar should have detected the Beijing-bound jetliner as it started deviating from its original route and turned back.
The "sophisticated" Marconi radar system failing to detect the airliner is "not only unacceptable, but not possible, not feasible," he said.
Anwar said: "Unfortunately the manner in which this was handled after the first few days was clearly suspect. One fact remains. Clearly information critical to our understanding is deemed missing."
"I believe the government knows more than us. They have the authority to instruct the air force ... or Malaysia Airlines. They are privy to most of these missing bits of information critical to our understanding of this mysterious disappearance of MH370."
The Boeing 777 passenger aircraft, with 239 people on board, went missing on 8 March while it was flying from Kuala Lumpur to Beijing. Neither the jetliner nor its debris have been found so far although authorities now believe the airliner crashed in the southern Indian Ocean.
The 12 crew members, particularly the two pilots of the missing aircraft, are under intense scrutiny following confirmation of foul play in the incident.
The jetliner, piloted by captain Shah, went off the radar seven hours after key opposition political leader Ibrahim was given a five-year jail sentence on sodomy charges.
Bitter rivalry between the two prominent Malaysian politicians, Prime Minister Najib Razak and opposition leader Anwar Ibrahim, was also rumoured to be behind the abrupt disappearance of Malaysia Airlines flight MH370 as the pilot's affinity towards Anwar emerged earlier.
Anwar insisted there is no evidence to directly corroborate Shah's hand in the incident and said the pilot's political affiliation has nothing to do with the plane.
Although the Malaysian government authorities have not publicly commented on Anwar's remarks, they are said to be blaming him for using the incident for political gains.