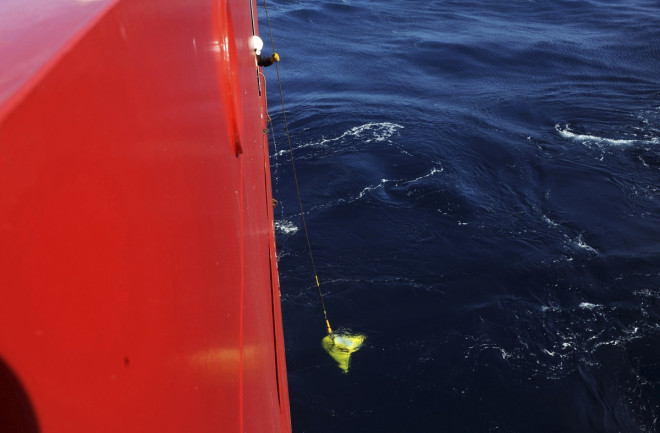 Underwater search for Malaysia Airlines flight MH370's black box has begun with pinger locators on two ships trying to find the flight data recorder before its battery drains out.
The vessels, Australia's Ocean Shield and the HMS Echo, will search a 240km-stretch in the southern Indian Ocean for the black box.
"The Australian Navy and the Royal Navy have today commenced a sub-surface search for emissions from the black box pinger from Malaysia Airlines flight MH370," Air Chief Marshal Angus Houston told reporters.
"Using the towed pinger from the US Navy on Australian defence vessel Ocean Shield and a similar capability on HMS Echo, the two ships will search a single 240km-track converging on each other."
The black box will stop sending signals, or the 'pings', in the next few days as its 30-day battery life would end.
The search zone has been chosen based on the "best data" available from the satellites mapping the jetliner's perceived path, said Houston.
The Boeing 777 passenger aircraft, with 239 people on board, went missing on 8 March while it was flying from Kuala Lumpur to Beijing. Neither the jetliner nor its debris has been found so far although authorities now believe the airliner crashed in the southern Indian Ocean.
Alongside the ships with black box locator capabilities, up to 10 military jets and four civilian aircraft will comb the southern Indian Ocean in the hunt for debris.
The Joint Agency Coordination Centre, which is spearheading the search activities, said in a statement: "The Australian Maritime Safety Authority has determined a search area of about 217,000 square kilometres, 1700 kilometres north west of Perth. Today's search area will focus on three areas within the same vicinity."
The weather is expected to be favourable throughout the day.