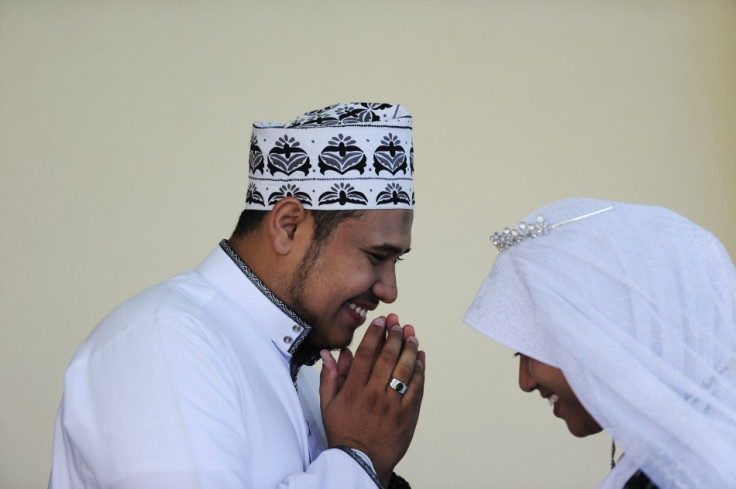 The pocket-sized guide, called "Islamic Sex: Fighting Jews to Return Islamic Sex to the World", was published October in Malaysia and puts forward the controversial view that polygamous men should engage in group sex with their wives.
The book was billed as a self-help guide for young brides wanting to know how best to please their husbands and claims that most women only satisfy ten per cent of their partner's sexual needs.
The Obedient Wives Club was founded in June 2011 by Maznah Taufik, who also set up the Polygamy Club in 2009 to encourage Malaysian Muslim men to take more than one wife, a practice legal under Islamic law but not common in the country. She says she believes domestic abuse and marital breakdowns only happen "because wives don't obey their husband's orders."
The Malaysian government had been investigating the book since its publication in October. Under Malaysian law, any written material considered pornographic or insulting to Islam can be banned. Authorities announced Thursday that the book has been deemed illegal because of the group's ties to Al-Arqaam, another religious sect that was outlawed in the 1990s.
"The government has banned Al-Arqaam. Any production from Al-Arqaam is banned. Therefore this book is banned," said Mahmood Adam, secretary-general of Malaysia's Ministry of Home Affairs, on Thursday.
Fauziah Ariffin, president of the Obedient Wives Club in Malaysia, said the ban didn't bother her.
"We accept the government's decision," she said. "We don't really care. We printed 3,000 copies of the book and it sold like hot fried bananas (a favorite snack among Malaysians). We have had such positive views from those who read the book. So we don't really care if the government chooses to ban the book."
The Obedient Wives Club, which claims to boast 1,000 members in Malaysia, Singapore, Indonesia and Jordan, has been denounced by moderate Muslims in Malaysia and abroad who say the group only represents a tiny and radicalised minority of what is otherwise a tolerant and liberal Muslim nation.