Malaysia seizes nearly $1m worth ivory tusks and pangolin scales at Kuala Lumpur airport
The operations were uncovered in a cargo warehouse where the consignments had fake addresses mentioned.
Customs officials at Kuala Lumpur airport in Malaysia have seized several kilograms of smuggled ivory tusks and pangolin scales that are valued to be nearly $1m (£755,300), authorities said on Wednesday (2 August).
The smuggling operations were uncovered in a cargo warehouse at Kuala Lumpur International Airport on Sunday (30 July), where authorities found about 76kg of ivory tusks.
There were 23 tusks and are reported to be worth Malaysian ringgit 275,000 ($64,162), according to Customs Department's assistant director-general of enforcement, Mohammad Pudzi Man.
The tusks were reportedly found on a shipment that came on an Etihad Airways flight from the Nigerian city of Lagos, via Abu Dhabi in United Arab Emirates, Reuters reported.
In another operation later on Sunday, Malaysian authorities seized six sacks of pangolin scales from the same cargo warehouse.
The scales are estimated to be worth ringgit 3.9m ($909,939).
The sacks, weighing over 300kgs, were reportedly on an Ethiopian Airlines flight from the Democratic Republic of Congo.
Both the consignments had fake addresses mentioned on them, Mohammad Pudzi said.
No one has been arrested in connection with the seizures as no recipient could be traced. It is also unclear if Malaysia was the final destination for the ivory tusks pangolin scales, he added.
It is believed that such shipments sent to Malaysia are usually meant for Vietnam and China, where the pangolin scales are considered a delicacy.
Investigators doubt that airport staff could be involved in the smuggling.
"We don't have proof but I believe that they (trafficking syndicates) exploit our systems and procedures in these smuggling activities," Mohammad Pudzi said.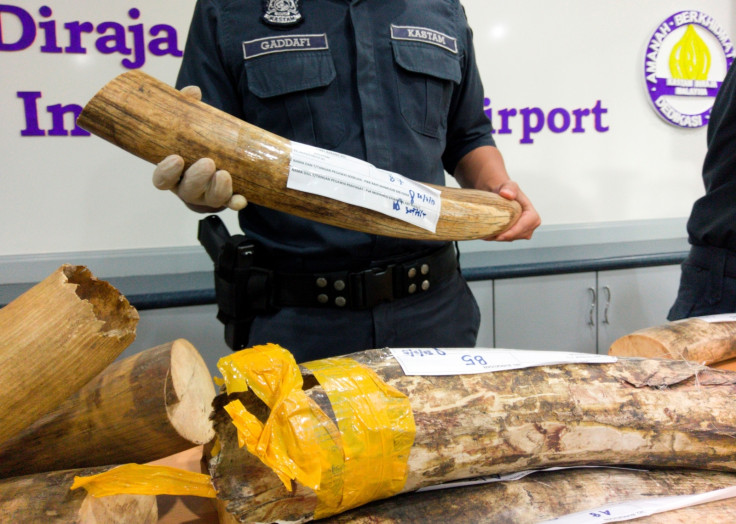 Smuggling endangered species is illegal in Malaysia and, if convicted, a person can face a minimum fine of 10 times or a maximum of 20 times the amount of the customs duty or Malaysian ringgit 100,000, and/or imprisonment not exceeding three years.
The recent incident is believed to show further evidence that the trafficking of pangolins remains a major problem, especially in the Asia Pacific region despite conservationists' efforts to clamp down on the trade.
Earlier in May, authorities seized more than $2m worth of pangolin scales at Kuala Lumpur airport. It was believed to be the largest smuggling case of the scaly anteaters in the country. Some 1,400 pangolins were thought to have been killed for the scales.
Pangolins are often described as the world's most-hunted animal. The mammal is in great demand in Asia where it is considered by some to have medicinal properties.
Last month, more than 7,200kg of ivory tusks shipped from Malaysia were seized in Hong Kong, in what was seen as the largest single smuggling case in 30 years.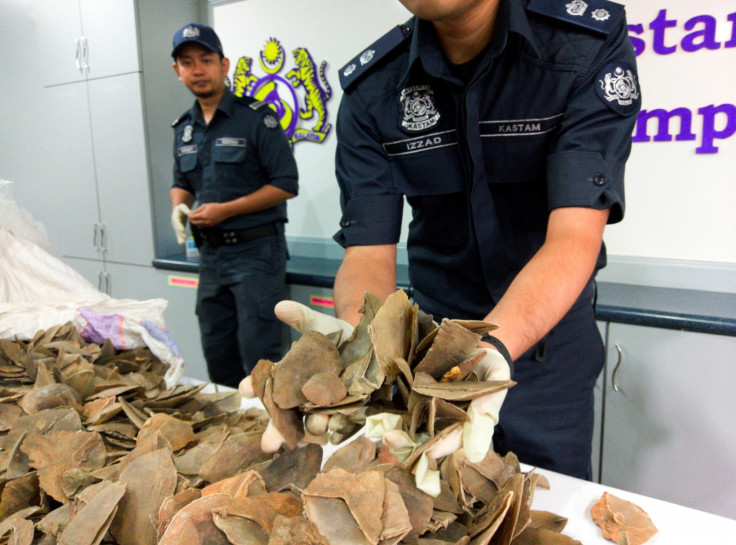 According to WildAid, a wildlife nongovernmental organisation, up to 30,000 elephants are being illegally killed every year to meet the demand for expensive ivory products in Hong Kong and China, which is believed to be the world's largest importer and end-user of ivory tusks.
In December, China announced to phase out domestic ivory trade by the end of 2017, a move that conservationists are hoping will also put an end to the large-scale elephant poaching in Africa.
© Copyright IBTimes 2023. All rights reserved.