Malaysian police confirm Kim Jong-un's estranged half brother killed at KL airport
North Korea has requested that the body of Kim Jong-nam be handed over to its embassy.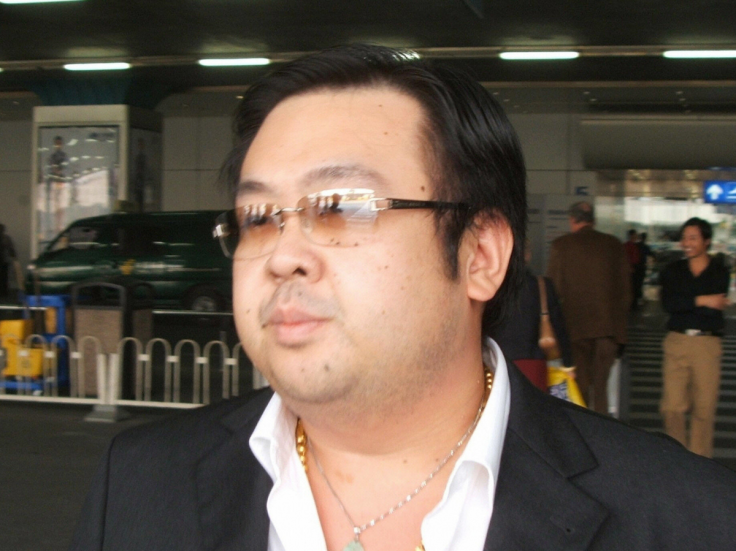 Malaysian police have confirmed that Kim Jong-nam, the estranged half brother of North Korean leader Kim Jong-un has been killed at the Kuala Lumpur International Airport 2 on Monday (13 February) morning at about 9am local time.
Selangor Criminal Investigation Department Senior Assistant Commissioner Fadzil Ahmad said that the incident occurred while the victim was trying to catch a 10am flight to Macau at the low cost terminal of the KLIA.
"He told the receptionist at the departure hall that someone had grabbed him from behind and splashed a liquid in his face.
"He asked for help from the receptionist and was immediately sent to the airport's clinic. At this point, he was experiencing a headache and on the verge of passing out," he said.
The victim experienced mild seizure while at the airport clinic, Fadzil added, according to The Star.
"He was put on a stretcher and was enroute to Putrajaya Hospital when he was pronounced dead."
Malaysian police have started investigations into the death of Jong-nam, he said. "So far there are no suspects, but we have started investigations and are looking at a few possibilities to get leads."
Fadzil said that for the time being, the case has been classified as 'sudden death' pending the results of a post-mortem.
New Straits Times said that it believes statements have been recorded from those attending to Jong-nam. Police are also looking at CCTV footage from the airport.
Police are looking into Jong-nam's movements while in Malaysia, as well as who he had met while staying in the country. He was believed to be travelling alone.
The Star newspaper said that Jong-nam was believed to have been in Malaysia since 6 February. No other details were immediately available.
Jong-nam, 46, was holding a passport under the name of Kim Chol. The passport listed his place of birth as Pyongyang.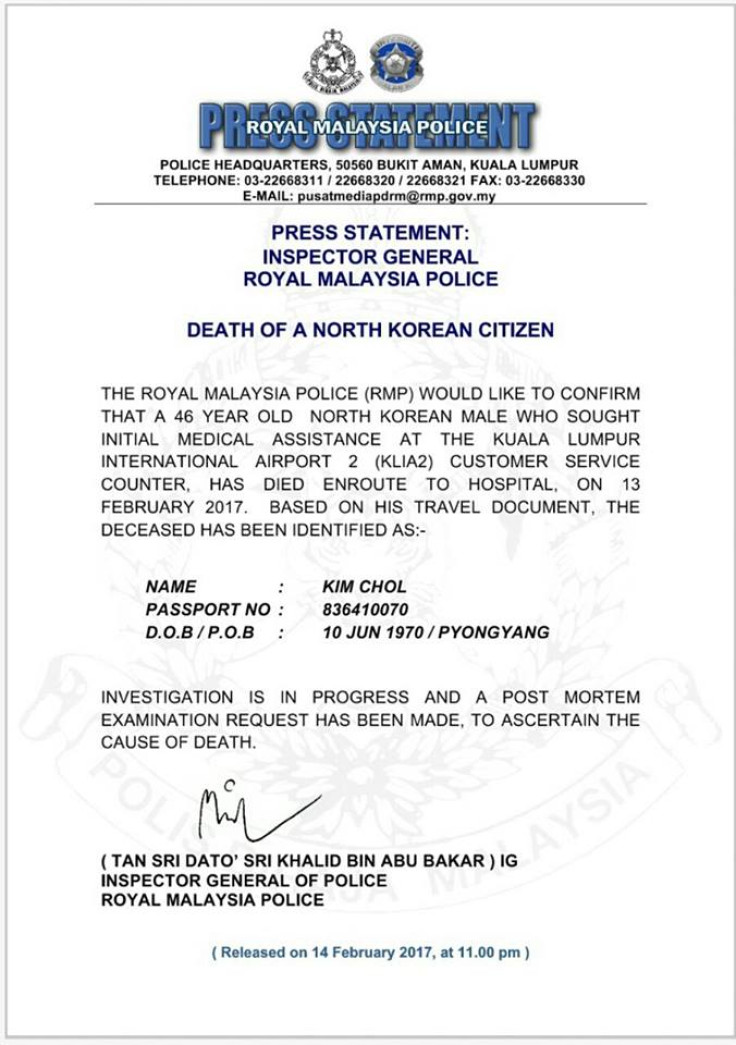 A post-mortem on Jong-nam will be carried out on Wednesday (15 February).
The North Korean Embassy in Kuala Lumpur has also requested that Jong-nam's body be released to them.
"However, we will perform the post-mortem first before releasing the body," he said.
Malaysia is one of a small number of countries that still has close relations with North Korea. Malaysians and North Koreans can visit each other's countries without the need for a visa.
Media reports in 2015 claim that North Korean spies tried to kill Jong-nam in Macau in 2011. In the shootout with his bodyguards, Jong-nam managed to escape.
Jong-nam was at one time the heir-apparent
Jong-nam and the current North Korean leader Jong-un are both sons of Kim Jong-il, the former leader of North Korea, who died in late 2011. They were born to different mothers.
Jong-nam, the elder sibling, an initially the heir-apparent, was believed to be close to his uncle Jang Song Thaek, who was North Korea's most powerful man before he was executed on Jong-un's orders in 2013.
South Korea's TV Chosun, a cable television network, reported that Jong-nam was poisoned with a needle by two women believed to be North Korean operatives who fled in a taxi and were at large. The report cited several South Korean government sources. None of these sources could be immediately verified.
Koh Yu-hwan, a professor at the Dongguk University in Seoul said that Jong-nam had previously been the subject of speculation that he could replace his younger half-brother. "Loyalists may have wanted to get rid of him," he said.
This is despite the fact that Jong-nam had previously said several times over the years that he had no interest in leading North Korea.
"Personally, I am against third-generation succession," he had told Japan's Asahi TV in 2010. "I hope my younger brother will do his best for the sake of North Korean's prosperous lives."
Jong-nam's mother was Song Hye-rim, a South Korean-born who died in Moscow, according to Yonhap.
"My father was keeping highly secret the fact that he was living with my mother who was married, a famous movie actress, so I couldn't get out of the house or make friends," he had said in a book published in 2012 by a Japanese journalist. "That solitude from childhood may have made me what I am now, preferring freedom."
He was disowned by his late father and has been living in virtual exile after he was arrested in 2001 at Tokyo's Narita International Airport for travelling on a forged passport. He was said to have been attempting to visit Tokyo Disneyland.
© Copyright IBTimes 2023. All rights reserved.