A group of MPs in Malaysia has said that the chief of 1MDB must be investigated following a parliamentary inquiry into the corruption allegations swirling around the controversial development fund. Malaysia's financial watchdog, the public accounts committee (PAC) tabled a report that looked at alleged mismanagement at 1MDB, saying its financing and performance were "unsatisfactory".
It said that former chief executive Datuk Shahrol Azral Ibrahim Halmi needed to be investigated and the fund's advisory board, chaired by the prime minister Najib Razak, be scrapped. However the report stopped short of directly implicating Najib, who founded the fund in 2009 and is at the centre of a furore sparked by a Wall Street Journal report on how $1 billion (£710 million) ended up in Najib's accounts via a circuitous route that included banks, companies and state agencies linked to 1MDB.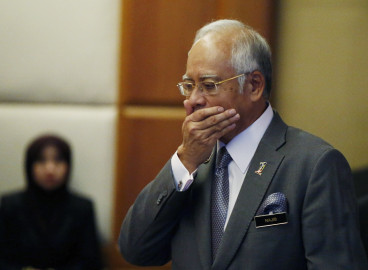 Malaysia's opposition leader Tony Pua and an MP with the Democratic Action Party (DAP) said the report released on Thursday (7 April) vindicated critics of 1MDB.
Pua told a news conference that it "confirms gross mismanagement and wanton neglect of all principles of good governance and accountability".
He added: "I think at the very least (Najib) should be held ministerially culpable. Anything else we don't know, as we don't have the overseas bank statements of 1MDB."
The report looked at overseas transactions it said were made without 1MDB board approval, including a $700m (£497m) transfer to an account of a company called Good Star Ltd.
Another looked at a $300m (£213m) transaction to 1MDB PetroSaudi Ltd, and the report also said that billions of dollars in unexplained payments were paid without board approval to a company called "Aabar Investments PJS Ltd (Aabar Ltd)" in 2012, Reuters reported.
The fund's executive board tendered their resignations in the wake of the report.
Public outrage in Malaysia is growing over allegations of mismanagement and corruption surrounding the prime minister, who denies any wrongdoing.
In a statement, Najib said that the PAC report found no evidence of $10.7bn (£7.6bn) going missing from 1MDB as he said had been alleged by the ex-prime minister Mahathir Mohamad.
1MDB is at the centre of corruption and money-laundering investigations in the United States, Switzerland, Singapore and Luxembourg as a global probe into its affairs widens. Meanwhile US Department of Justice officials have asked Deutsche Bank AG and JPMorgan Chase & Co to provide details on their dealings with 1MDB.