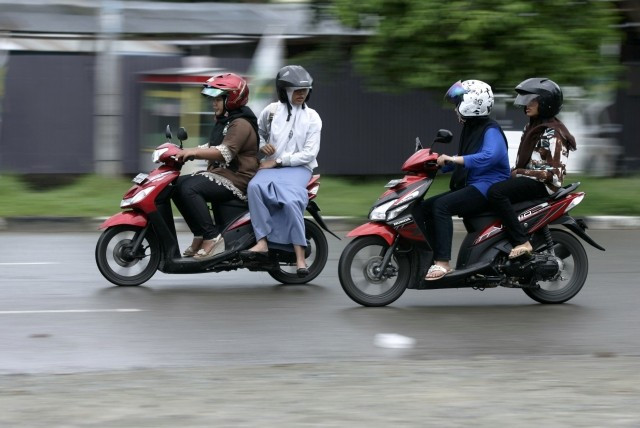 The eastern state of Terengganu has warned that it will be monitoring unmarried Muslim couples who ride on motorcycles for indecency, telling couples to "keep their hands" to themselves.
Pillion riders have been warned that they should not put their hands in the jacket pocket of their partners, hug and lean against each other while riding on motorcycles.
Terengganu Religious Affairs Department (Jheat) Commissioner Wan Mohd Wan Ibrahim said that such acts were against the teachings of Islam.
He said that a special operation will be launched to catch Muslim couples acting indecently while riding motorcycles. "We have a team of enforcement officers who will be watching couples on motorcycles from a distance and recording them before informing another team of officers who are at the roadblocks with Road Transport Department officers," he said.
No cameras are necessary as only eyewitness testimony is sufficient as proof in Syariah courts, he said.
The Star newspaper quoted Wan Mohd as saying that unmarried Muslim couples who rode on motorcycles in a "decent manner" would not be affected but warned them against sitting too closely. Such an act could lead to illicit intercourse and having children out of wedlock, he said.
"We will advise unmarried Muslim couples to not ride pillion as it doesn't portray a good image. That is our job and we are doing this because prevention is better than cure."
It does not stop with motorcycles, The commissioner has also threatened to take action against unmarried couples "seated indecently" in cars.,
A Muslim found to be acting indecently and inappropriately can be charged under the Syariah Criminal Offences (Ta'zir) (Terengannu) Enactment 2001.