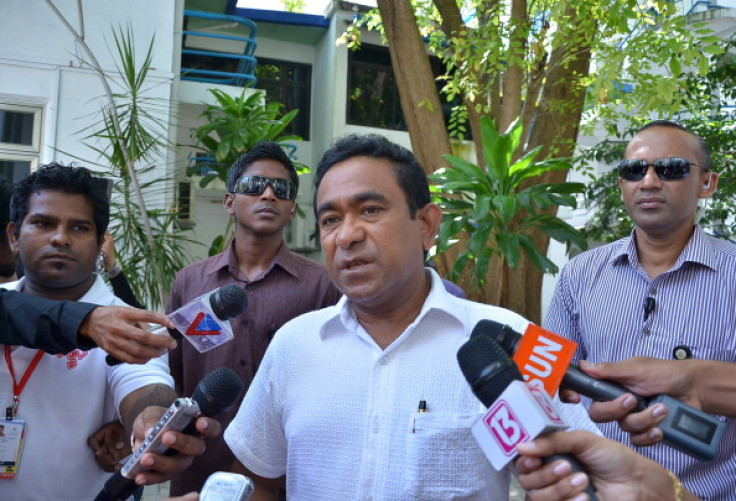 Authorities in Maldives raided a media house and a non-profit organisation after an investigative documentary by Al Jazeera was aired on Wednesday (7 September). The investigation revealed the massive corruption, which included theft, bribery and money laundering, by top leaders of the country's government.
The documentary, Stealing Paradise, has also reportedly showed President Abdulla Yameen receiving bags filled with cash worth $1m (£750, 000). The programme has uncovered a $1.5bn money-laundering plot involving Yameen's ministers and his aides through the South Asian nation's central bank, with the help of secretive businessmen from Singapore, Malaysia and Indonesia.
Soon after the video became viral, local police searched the office of the Maldivian Independent newspaper. The media house allegedly has links with the former President Mohamed Nasheed's Maldivian Democratic Party (MDP). Interestingly, the paper's former editor Will Jordan led the Al Jazeera investigation.
According to a Guardian report, authorities also searched a number of floors in the building and arrested two men unassociated with the newspaper. They accused them of terrorism and plotting against the government. They were released later but will be interrogated on Thursday.
Zaheena Rasheed, the present editor of the newspaper said that the raids were a form of harassment and "aimed at us".
"We've had one of our journalists disappear, a machete attack on our door, and our security cameras vandalised, so we've had to relocate once before. It's not a safe place for journalists at all," Rasheed added, while justifying her decision of leaving the country.
She was also interviewed for the documentary; however, she fled before its broadcast.
Local media persons involved with the documentary have already vacated the country to avoid any kind of backlash. However, those who remain have their passports cancelled.
Meanwhile, the Maldives broadcasting commission released a statement on Wednesday claiming those involved in the documentary would face defamation charges according to a new rule, which makes defamation a criminal as well as a civil offence.
The Al Jazeera's programme – Stealing Paradise – has exposed the corruption through data obtained from three of the smartphones of former Vice President Ahmed Adeeb and dozens of confidential documents. It also featured recorded confessions of three men who cheated millions and delivered the illegitimate cash on the orders of the current president and his delegate.
However, Maldives government has denied the allegations and issued a statement to Al Jazeera, saying, "There is no evidence in this report connecting President Yameen or current members of his Government to any wrongdoing.
"These claims already form part of a wider investigation initiated by President Yameen in February 2016. We have asked Al Jazeera to provide any evidence they have which is relevant to this investigation."
"It is disappointing that Al Jazeera has in this instance failed to meet the high standards of journalism expected of such an organisation," the government said.