Former first daughter Malia Obama, 19, was spotted locking lips before the Harvard-Yale football game with a British Harvard student. The former head boy for one of England's most prestigious schools is now in his sophomore year at the Ivy League university.
Rory Farquharson caused an international media storm on Saturday (18 November) when he was filmed making out with former President Barack Obama's eldest daughter. The 19-year-old Harvard sophomore was Head of School at Rugby School for the school year 2015-2016, the Daily Mail revealed.
The head boy position, which is typically selected by the school principals, provides links between teachers and students. Chosen students are usually the most outstanding—both academically and socially—of the school year.
A school insider told the Daily Mail that Farquharson was considered "quite a catch" by girls at his school.
"He was very popular," the insider added.
The Daily Mail noted that Rugby is among the top public schools in the United Kingdom, just below the more widely known Eton and Harrow. Tuition at the school, known for the sport of rugby, is £11,584-a-term.
Farquharson, an avid athlete who played rugby and golf, appeared as an extra in a rugby video used at the Rugby World Cup Opening Ceremony in 2015 which also featured Prince Harry. The popular student also participated in his school's Blue Bunsen Society, a chemistry club.
The 19-year-old started his studies at the university last year after completing his A-levels, The Telegraph. He posted a photo of himself on Cambridge, Massachusetts campus with the caption: "So it begins".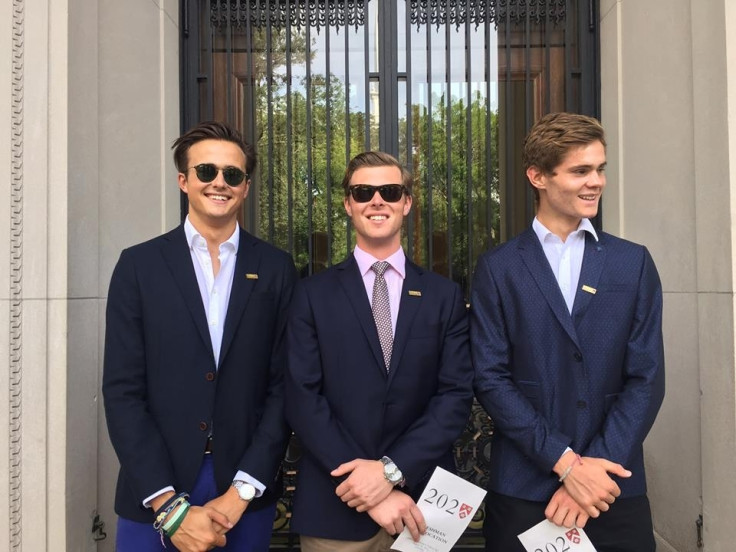 Farquharson, who interned with the Centre for Democracy and Peace Building in Northern Ireland is reportedly interested in following in the footsteps of his father, Charles, the chief executive of Insight Investment Management Limited based in London.
The teen's Twitter account follows several banking-related accounts. It also appears Malia's new beau is no fan of her father's successor, President Trump. According to the Telegraph, Farquharson retweeted a post suggesting Trump's populism is unlikely to last more than a year.
Malia began her freshmen year at Harvard this autumn, following in the footsteps of her father and mother, who both attended Harvard Law. A video of the pair shows Malia smoking a cigarette and smiling before throwing her arms around Farquharson.