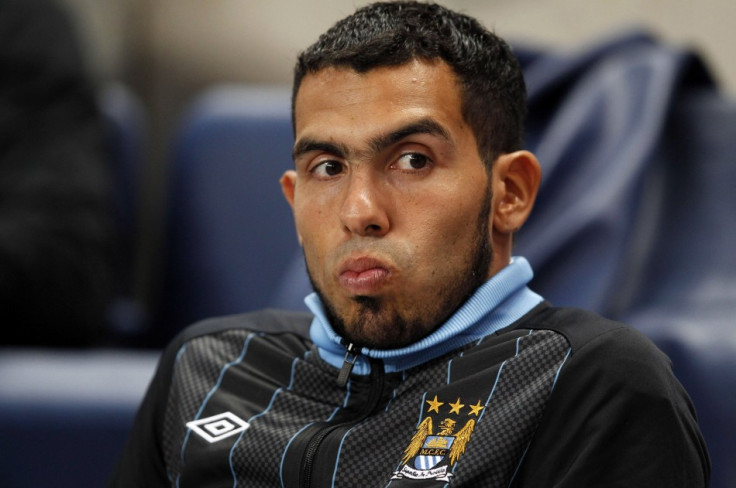 Carlos Tevez is prepared to sue Roberto Mancini for defamation, according to the Argentine's advisers.
On Tuesday, Tevez was fined four weeks wages - roughly £1m - for five separate breaches of contract in a game against Bayern Munich in September.
A club investigation found that Tevez had refused to come on as a substitute when directed to by Mancini.
The Argentine international has denied the accusation, saying he was never asked to go on but was instead instructed to warm-up. He refused the instruction because he felt he had already warmed up sufficiently.
Tevez has been advised that Mancini's post-match comments - when the Italian told reporters the striker had refused his request to go on as a substitute - could constitute defamation and he is believed to be considering his legal options.
The 27-year-old has 14 days to appeal the decision to the City board and Tevez's PR advisor has confirmed the striker feels isolated after recent developments.
"He has been hurt by the insinuation that he refused to play when Manchester City's charges are refusal to resume to warming up," Paul McCarthy told Sky Sports News.
"So that is where there is conflict, if there is any conflict at the moment. He feels his reputation has been damaged by that."
Tevez has repeated his claim that he refused to warm up, rather than refuse to play; but City contend that the two claims constitute the same offence.
City decided not to extend the two-week suspension already served by Tevez but the striker is unlikely to feature for the club again, with a January exit seemingly inevitable.
"Following a detailed investigation and associated hearing, a disciplinary panel has upheld the charge of misconduct," a City statement read.
"Five separate breaches of contract formed the basis of the decision by the panel.
"As a result Carlos Tevez has been fined four weeks' wages and has been suspended for a period of two weeks (deemed to have already been served). He has received a written warning as to his future conduct."