Man Group Plc has made a strong start to 2012 with combined business power counterbalancing weaker performance at AHL, but Singer Capital downgrades its estimates ahead of the group's first quarter interim management update on Tuesday.
On 27 February 2012, AHL was 10.9 percent below high water mark on a weighted average basis and on 24 February 2012, two thirds of GLG funds were above or within 5 percent of performance fee highs.
The alternative investment management firm has a positive momentum following its preliminary results in March, says Societe Generale. While UBS sees M&A potential for the largest listed hedge fund firm, but Singer Capital expects Funds Under Management to drop slightly.
Although 2012 has the potential to be another challenging year for markets, recent performance suggests that market participants are pragmatic about the global economic outlook. At Man, they remain focused on maintaining the firm's unique positioning and managing the transition in its product and margin mix. The fundamental strength of its business will enable it to adapt and grow as market sentiment improves.
Shares in Man Group were up 4.1 percent on Friday, with the FTSE 100 index ahead 0.3 percent, as the hedge fund manager finds support from an upgrade in rating by Societe Generale. The broker raises its recommendation for Man Group to "Buy" from "Hold" following a 35 percent fall in its share price in recent weeks having cut its target price to 115 pence from 155 pence after reducing EPS estimates.
"In our view the positive momentum was too great following its results in March, and we now believe negative momentum is too great given the proven fundamentals of the business," said Societe Generale in a note to its clients.
Societe Generale further said despite the market backdrop for hedge fund sales being challenging and the risks at Man Group looking finely balanced, it sees upside for the stock being driven by the likely improvement in either the industry backdrop or the performance of its flagship AHL fund or by both.
Funds under management (FUM) at the end of February 2012 were estimated to be at $59.5 billion, reflecting positive investment performance but slightly negative asset flows so far this year. The group's conversations with its largest fund investors and distributors reinforce the more general industry commentary that appetite for liquid alternative investments continues to build and that established industry participants will be the largest gainers from this trend.
UBS values Man Group at 100 pence per share on a break-up valuation with AHL valued at 38 pence a share, GLG 33 pence a share, the institutional business 9 pence a share and its net cash position 20 pence a share.
"Despite our reduced estimates, recent clarity over the dividend policy suggests that a 22 cents dividend payout is intact and supports a more a limited downward revision to our target price (to 170 pence from 190 pence) than the reduction to earnings would otherwise imply," Singer said in a note to its clients.
Below is a summary of sector comparisons in terms of price earnings, earnings per share, dividend per share, dividend yields, return on equity and price-to-book ratio. The table explains how the company is performing against its peers/competitors in the sector. The table below represents ten companies based on market capitalisation.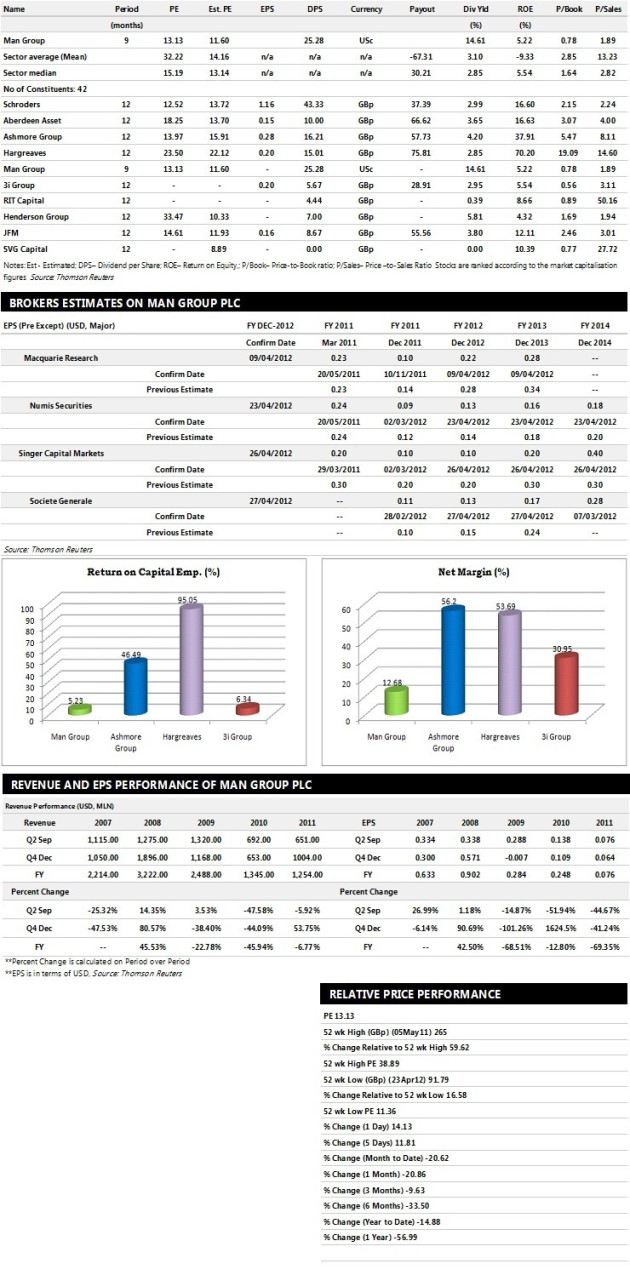 Brokers' Views:

- Societe Generale recommends 'Outperform' rating on the stock with a target price of $2.46 per share
- Singer Capital Markets recommends 'Buy' rating with a target price of $2.73 per share
- Canaccord Genuity gives 'Hold' rating with a target price of $2.19 per share
- Numis Securities assigns 'Hold' rating with a target price of $2.29 per share
Earnings Outlook:

- Societe Generale estimates the company to report revenues of $1,437 million and $1,549 million for the FY 2012 and FY 2013 respectively with pre-tax profits (pre-except) of $231 million and $345 million. Earnings per share are projected at 13 cents for FY 2012 and 17 cents for FY 2013.
- Singer Capital Markets projects the company to record revenues of $1,424 million for the FY 2012 and $1,746 million for the FY 2013 with pre-tax profits (pre-except) of $335 million and $559 million respectively. Profit per share is estimated at 10 cents and 20 cents for the same periods.
- Numis Securities expects Man Group to earn revenues of $1,399.80 million for the FY 2012 and $1,529.80 million for the FY 2013 with pre-tax profits of $305.20 million and $375.00 million respectively. EPS is projected at 13 cents per share for FY 2012 and 16 cents per share for FY 2013.