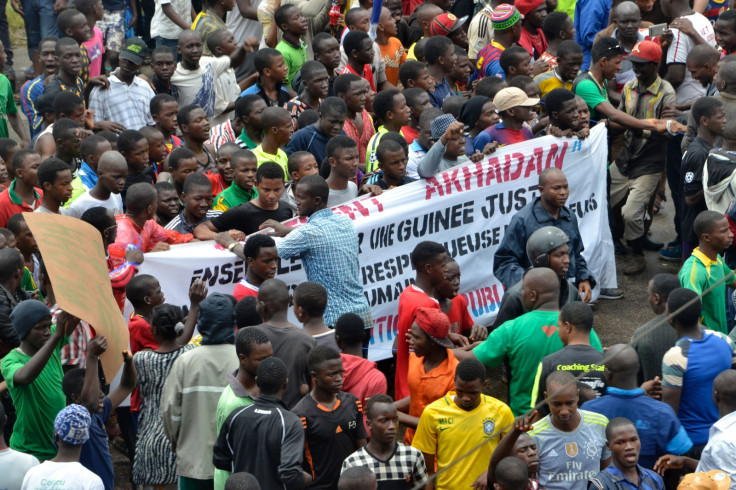 A man has been reportedly killed by police in Conakry, the capital city of Guinea, during an anti-government protest march in which more than half a million people participated on Tuesday (16 August). Several others were also injured in the protest, AFP reported.

Thierno Hamidou Diallo, 21, was shot in the chest by a police officer "as he was sitting on the balcony of his apartment" in the suburb of Bambeto in the region of Pita, Guinea, Diallo's brother Mamadou Dian Diallo said.
The demonstration was against alleged government corruption. It was reported that Guinean nationals were not happy with the economic management of the country by President Alpha Conde and were demanding for his resignation.
According to Cellou Dalein Diallo — a Guinean economist and also the leader of opposition party Union for the Democratic Forces of Guinea — at least 700,000 people had participated in the 15km march from the suburbs to the 28 Septembre stadium in Conakry for their rights. However, security forces claimed that the number of people was approximately 500,000.
"Alpha resign, Alpha that's enough, students unemployed, we want jobs," protesters were shouting while waving placards reading "Death to dictatorship", AFP reported.
Diallo alleged that Conde's government had not properly handled the huge Simandou iron ore project in the south of Guinea managed by British-Australian firm Rio Tinto. And, this could mean that people of the country might miss out on "decent jobs".
Despite being rich in minerals, Guinea is a poverty-stricken country, where most of the population survives on less than a euro (86p) per day, according to the UN.