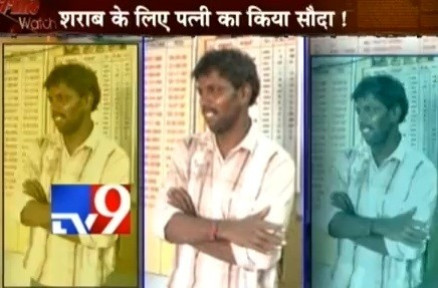 An alcoholic day labourer in India has been accused of trying to sell his wife to a broker for £70 in order to buy more drink.
Medula Rajender, 42, from the Karimnagar district in central India, was charged after the woman's son made a complaint to the police, the Times of India reports.
Rajender tried to sell Medula Ammayi, 36, to a broker for 6,000 rupees because he was finding it hard meet his alcohol expenses, police said.
He forced his wife to go to the town of Chandurthi with him and left her at a bus station. He told her to wait for the broker.
Ammayi said: "I was shocked when he told me that he had sold me for Rs6,000 to the broker in Korutla. He even bought a bus ticket to Korutla for me and left the place.
"I had married Rajender 20 years ago but could not imagine in my wildest dreams that he would resort to such a heinous act."
She went to a relative's house and her eldest son.
Insp Rafeeq Khan for the police said: "We are counselling the couple. The accused will be produced before the family court soon."
In 2009, it emerged that a number of farmers in India had been selling their wives in order to pay debts accrued through a drought.
Ranjana Kumari, of the Centre for Social Research in India, told CNN that exploitation of women was common in India because they had little support.