The man who shot a policewoman and reached for a soldier's gun at Orly Airport in Paris was known to French police before the incident.
The unidentified assailant shot a policewoman in the face at around 6.50am CET (5.50am GMT) during a road check, before hijacking a car.
He then made his way to the airport, where he wrestled a soldier to the floor and attempted to grab her gun. Two other soldiers nearby shot and killed the man. The second incident took place at around 8.30am CET (7.30am GMT) in the airport's South Terminal on Saturday (18 March).
Police sources in France described the attacker as "a radicalised Muslim known to intelligence services", who had a history of crimes, including thefts and violent robberies.
However, the office confirmed the suspected attacker was not present on the government's database of terrorist suspects, known as the 'S' list. It contains a list of names that could pose a danger to national security, including people who are suspected of being involved in terrorist plots.
The anti-terrorism division of the Paris prosecutor's office has taken the man's father and brother into custody for questioning over the attack.
While there were no other deaths or injuries, 3,000 passengers at the airport were evacuated and at least 15 flights were moved to Charles de Gaulle airport across the city.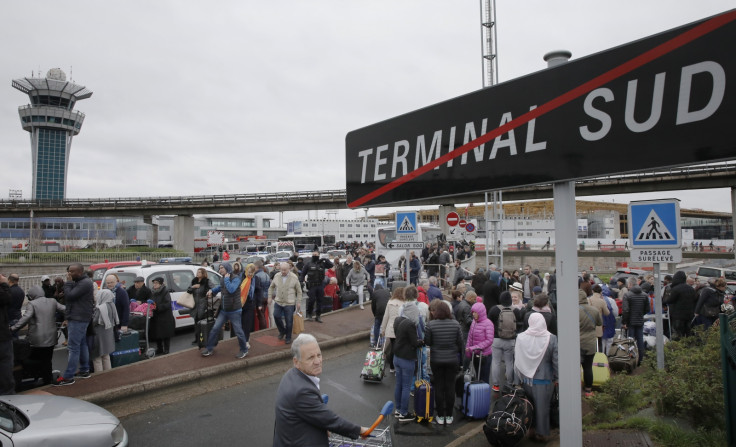 Augustin de Romanet, president of the ADP airport authority said passengers on 13 flights that landed at the time of the attack were forced to stay on planes for several hours before being allowed to leave, following the completion of an airport search.
Orly Airport is the second biggest airport in Paris, second to Charles de Gaulle, and caters to domestic and international flights to Europe and Africa.
France has been under a state of emergency following a string terror attacks over the last two years that have killed 235 people and devastated the nation, including the November 2015 attacks in Paris and the July 2016 Nice truck attack.